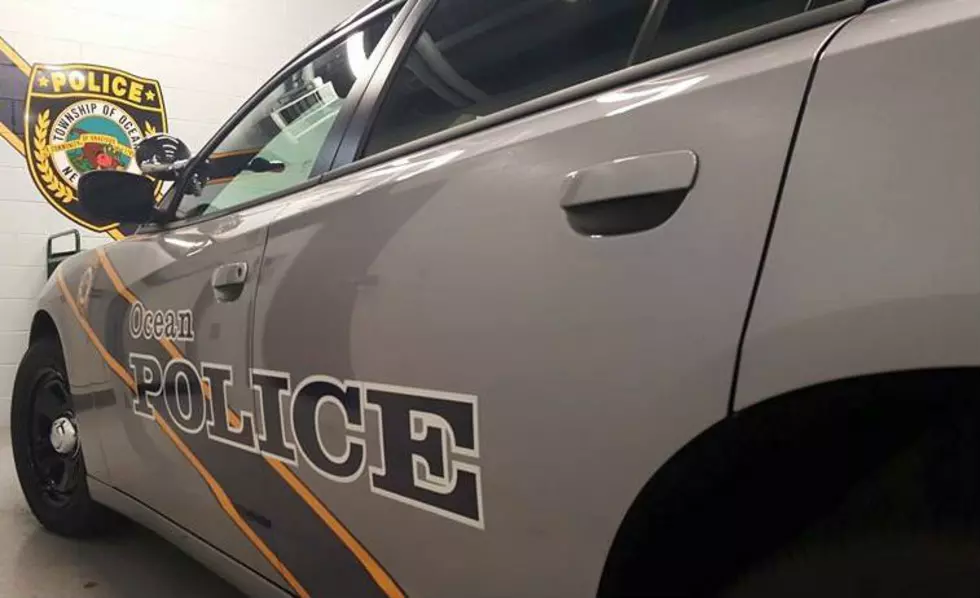 Burglary, theft, assault, alcohol, prostitution, drug arrests in Ocean Township
Ocean Township Police, Monmouth County (Ocean Twp. PD Facebook)
Crackdowns and ongoing investigations in Monmouth's Ocean Township from March 27 to today - including a probe that stretches back to September - lead to a slew of charges, several people in custody, and more on the loose.
Charges are accusations. Defendants are presumed innocent unless, and until, found guilty in a court of law.
Car burglary spree suspects on the loose
No suspects have been nabbed in a car-burglary spree that occurred on April 6 and 7 in the township's Wayside section, but police urge residents in all sections to lock their car doors and report unusual or suspicious activity.
Police said that all the lootings took place after dusk Thursday and before dawn Friday, and involved unlocked cars on Bowne Road, Cold Indian Springs Road, Asbury Avenue, Green Grove Road, Derby Lane, Eaton Place, Lambert Johnson Drive, and Violet Drive.
Hidden identity, stolen credit card
A routine Route 35 traffic pullover on March 27 became complicated quickly for township resident Briana Ogle, 20, according to police who allege that she misidentified herself. The following week, she was arrested again on credit-card fraud charges.
Officers said that after sorting out Ogle's actual identity during the highway stop, they found drug-related items and stolen property, and learned of an active warrant for her in Neptune Township.
She was charged with hindering arrest, obstruction, possession of drug paraphernalia, possession of syringes and possession of a stolen credit card.
At the time, she was released on a summons to await court proceedings. However, it didn't end there.
On April 5, a followup investigation identified Ogle as having tried to use the credit card twice in Neptune Township. She was arrested in a motel in the township, and found with more drug items, police said.
This time, Ogle was remanded to the Monmouth County Correctional Facility (MCC) in Freehold until her court date arrives.
Bradley Beach prostitution suspect
On April 3, a roadside pullover on Allen Avenue at 9:59 PM. prompted the arrest of Melissa Alexis, 45, of Bradley Beach, in connection with a prostitution investigation. Police said that she was found to be holding crack cocaine, heroin and drug-related items.
Police did not elaborate on the connection between Alexis, the traffic stop, and the probe.
Crash leads to DWI, auto assault charges
A Tinton Falls 55-year-old who allegedly triggered a three-car crash on April 5 is charged with driving while intoxicated and assault by auto.
Linda Siciliano was unhurt in the collision at about 9:22 PM on Asbury Avenue at Worth Avenue, which drew response from Ocean and Neptune Townships, police said.
A responding officer determined that Siciliano had been drinking before the crash. Another driver was treated for injuries at Jersey Shore University Medical Center in Neptune, while the third was injured but refused transportation to medical care, police said.
An apparent agreement between an adult and a teen for an alcohol buy by the former, to hand to the latter, lands both in trouble with police.
The arrests took place April 6 in an Oakhurst liquor store, where two plainclothes officers were assigned for a "Cops In Shops" detail to ward off underage drinking and to capture those who enable it.
Police claim that Natalie Bisono, 19, of Danbury, Connecticut, handed money to Stephanie Huff, 22, of Green Brook, NJ, for the purchase. Officers confronted the pair after witnessing the buy, authorities said.
Huff is charged with providing alcohol to a minor. Bisono is charged with underage possession of alcohol.
Seven-month shoplifting probe ends in North Jersey
A Haledon man who allegedly smuggled electronic items from the Game Stop on Route 66, and returned them for refunds last September, is tracked down in his home town.
According to police, Amir Elfki, 24, pocketed XBox accessories worth $160 on September 2, 2016, and later redeemed them in the same store for cash, using false identification.
A criminal warrant was issued April 6. Elfki was found and arrested in Haledon and processed in Ocean Township on counts of shoplifting, possession of stolen property, and theft by deception. He was placed in MCCI until his retention hearing.
Warrant arrest produces multiple burglary counts
A township teen, apprehended April 6 on the strength of a criminal warrant from Ocean Township Municipal Court, is accused of car and apartment lootings that plagued two residental complexes in March.
Marlone Dasme, 18, was found to be holding a stolen Kindle Fire, marijuana and related items during his arrest, police said.
Detectives subsequently tied Dasme to a pair of car burglaries near the Twinbrook Village apartments, several more near businesses on West Park Avenue, an attempted apartment break-in that was interrupted by the occupant, and a trespassing incident in an abandoned apartment in the Continental Gardens complex, on Willow Drive.
Dasme faces six charges in connection with the incidents, in addition to the warrant, and was remanded to MCCI.
Other than Ogle, Dasme and Elfki, the arrestees were released on summonses, with court dates ahead.
Ocean Township Patrol Officers Jesse Orbach, Christopher Clune, Alicea Angelo, Michael Legg, Michael Melody, Nicholas Castellano, Officers Polanco, Donohoe, Bercovicz, Hanna and Bernhard, Sergeant Timothy Macom, Detectives Gregory Martone, Steven Walker and Christopher Brady, and Detective Sergeant Patrick Martin, conducted the investigations and arrests.