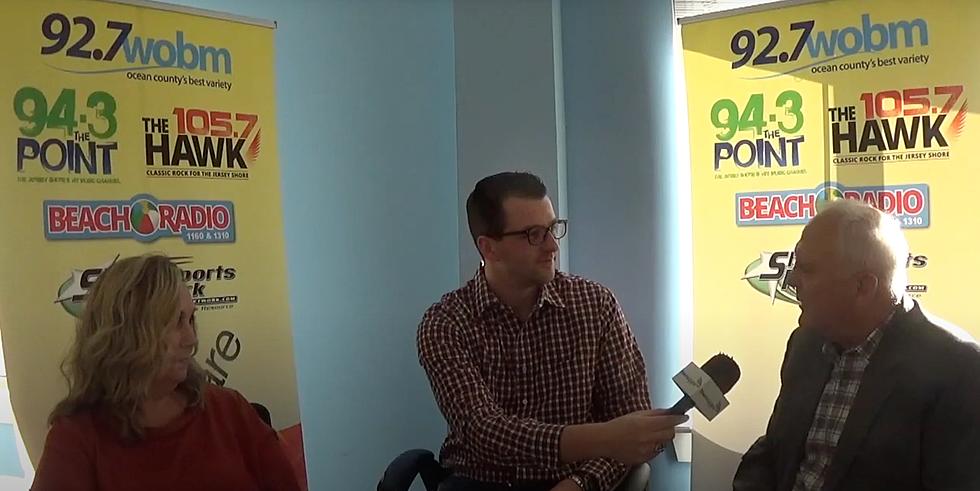 Ocean Mental Health in Ocean County, NJ undergoes name change, what that means for you
(Photo: Townsquare Media NJ)
Ocean Mental Health is now Bright Harbor Healthcare but they still provide a variety of essential healthcare services and not just a focus on mental health but so much more for so may in Ocean County and beyond.
"I think we were actually overdo with changing the name because Ocean Mental Health Services was so much more than just mental health services," Jim Cooney, CEO of Bright Harbor Healthcare tells Townsquare Media News. "We have a very vibrant addiction treatment series of programs, we have specialty programs for depression such as TMS, we have a special education school, we have a pharmacy service, we have laboratories -- we just do a lot of different things."
They've provided these services for some time now but part of the hope with the name change is to ensure the optics of the new branding will help those out there who have or require any number of services to feel more comfortable coming in and speaking with someone or becoming more informed about Bright Harbor Healthcare.
Mental health is so important especially in today's society and so this organization can help you find inner peace and meet other needs while also being a resource for other health and personal needs.
"A couple of years back, we had really started to follow the trend of taking care of the whole person and whole person health," Kim Veith, Director of Adult Clinical Services for Bright Harbor Healthcare, tells Townsquare Media News. "Mental health talked a little but about what we did, but not all of it and so I was excited about the name change as well because I think it really brings us to a place where people will think about us for more than just mental health treatment although that's what we've been good at for so long."
As a whole, you could visit or reach out to Bright Harbor Healthcare for any number of services, requests, programs and so forth.
"One of the programs we had added was primary care in terms of taking care of people as a whole person," Veith said. "One of the things that the research had showed us was that folks with chronic persistent serious mental illness died 25-years before their counterpart in the general population and that was because they didn't always get the preventative care or the primary physical care that they needed."
It is the organizations hope that through this program in particular, more people will be encouraged to ensure proper and full health care from head to toe, from mental health to physical health so they can have a longer life with their loved ones and friends.
The idea of self-care comes up a lot towards the end of one year and the beginning of another and not always for the gym craze in the first week of January but more so with reality setting back in after the holidays and new year and many people in dire straits trying to figure out next steps.
"This time of year in particular, one of the services that we've added is TMS, which stands for Transcranial Magnetic Stimulation, and that's magnets that send a series of pulses to stimulate different areas of the brain -- areas that work on mood and depression -- there's been 60-70 percent overall improvement for folks that have participated in that and there's actually 50-percent with complete remission of symptoms," Veith said.
"It's complete non-invasive, so you're not putting medications into your body, there's no surgery involved, no probes," Cooney said. "It's been very, very affective."
Bright Harbor Healthcare (Ocean Mental Health) has also been instrumental the last couple years working alongside the Ocean County Prosecutor's Office in carrying out the 'Operation Helping Hand' initiative which "allows defendants charged with controlled dangerous substance related offenses, such as minor possessory and paraphernalia type offenses, to be screened for potential substance abuse disorder to determine what level of a treatment program they may need."
It's a program that took off really well and slowed down a bit during the early goings of the pandemic but in a conversation with us in February of this year, Ocean County Prosecutor Bradley Billhimer and Ocean County Assistant Prosecutor Renee White, explained the inner workings of this program and how it helps so many people.
Bright Harbor Healthcare will certainly help in the effort to keep it going alongside the OCPO.
"We're really grateful to have the Ocean County Prosecutor's Office as partners with us on several different programs and collaborations," Veith said. "'Operation Helping Hand' is one of the programs that we work with them -- part of that involves post-narcan deployment home visits, so folks that have had a narcan reversal by police officers send their referrals to us and we have a team recovery coach and clinician who will go out and meet with the person who overdosed as well as the family to get them connected to services."
In addition to addiction services, the mental health services they provide and the effectiveness of it has been huge in Ocean County.
One of the other programs they've been apart of is 'On-Point', which originated in September of 2016 alongside Stafford Township Police and Chief Tom Dellane who discussed that with us last year with how successful it's been and how it nearly became a national program a couple years later under then Ocean/Burlington County Congressman Tom MacArthur.
This 'On-Point' program has grown and become a big part of police working with social workers in Ocean County.
"We've been successful in embedding some of our social work staff in local police departments," Cooney said. "Bottom line is that it's been very, very successful."
You can learn more about all the services Bright Harbor Healthcare offers in the video below and at their website.
First Responders Appreciation