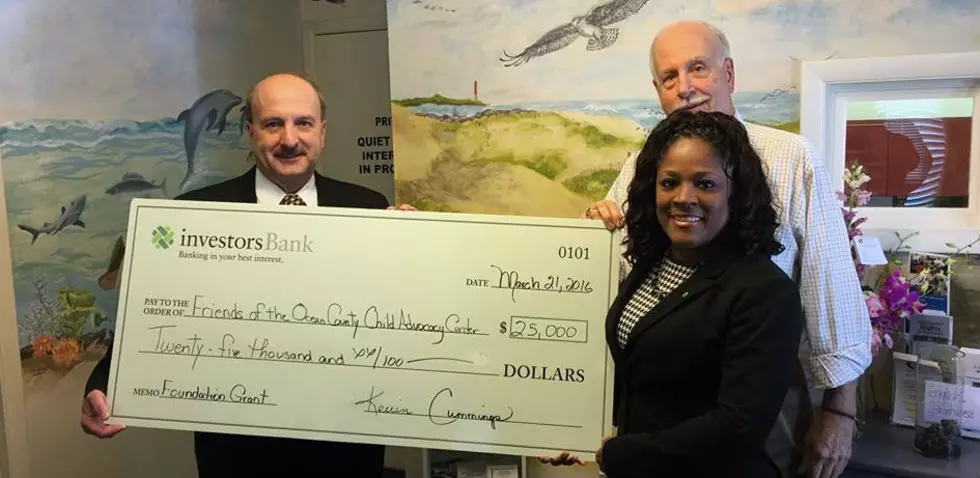 Bank donates $25,000 to Tina's House
(L-R) Ocean Co. Prosecutor Joseph Coronato, Investors Bank VP Sandy Broughton, Attorney Harvey York (Ocean Co. Prosecutor's Office)
The mission of "Tina's House" to support Ocean County children and victims of sex assaults and domestic abuse gets a $25,000 cash infusion.
Investors Bank officials, led by Vice President Sandy Broughton, presented the donation today to County Prosecutor Joseph D. Coronato. She was accompanied by attorney Harvey York, Treasurer of Friends of the Ocean County Child Advocacy Center.
Named in memory of the late county Special Victims Detective Tina Rambo, "Tina's House" breaks the mold of institutionalized surroundings for abuse victims of all ages.
It combines components of law enforcement, child protection, prosecution, mental health, medical care and victim advocacy in a home-like setting that ensures no contact with suspects.
The ranch-style abode in Toms River carries a nautical theme, with decor and coloring aimed at reducing victim stress, which affords interviewers a better chance to collect clear and accurate information.
Waiting rooms resemble living rooms, with TVs, toys, books and games.
Detective Rambo's life was cut short in a car crash in Southampton in 2011.