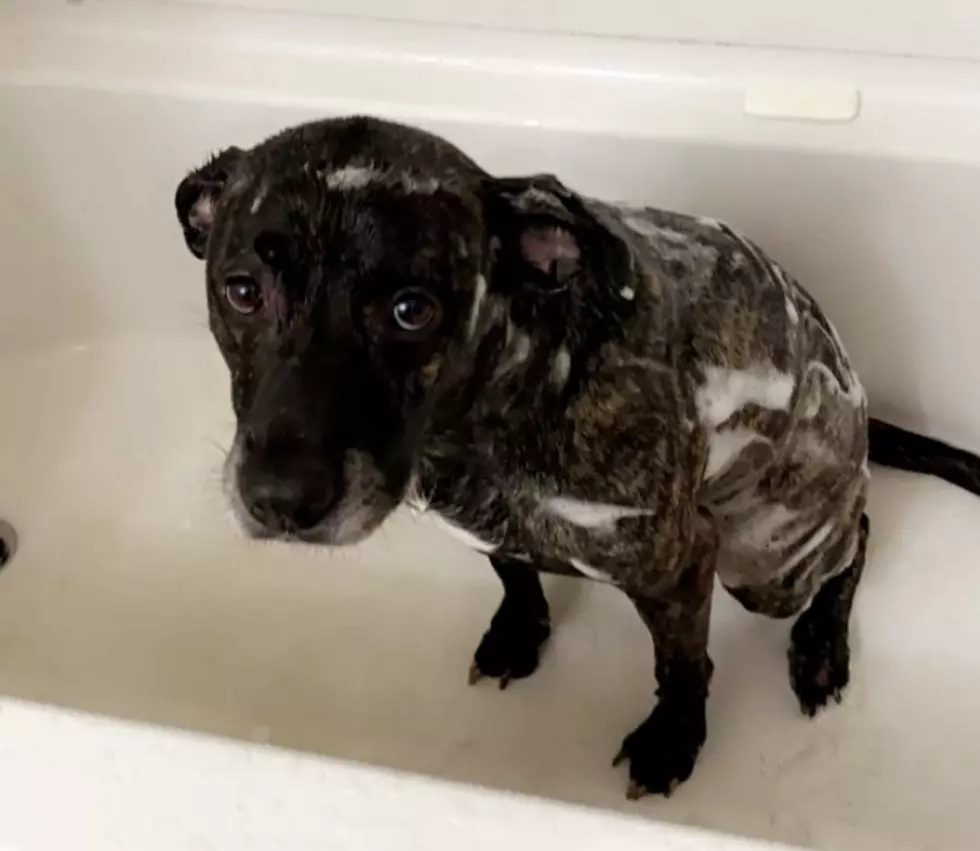 An Open Letter To People Who Think That All Pitbulls Are Mean
Duke The Dog (Mark Anthony, Townsquare Media)
I heard the most repugnant thing when I was in a convenience store on Saturday afternoon. It struck me to my core. Have you ever just heard something so revolting that you can't move or speak? That's how I felt when I listened to this lady talk about a particular breed of dog. 
"All Pitbulls are out to kill," she said while muttering something about how they should be bred anymore. 
I do not understand this thinking. It just does not register with me. This kind of hatred for a living thing does not compute in my brain — especially when the animal is innocent and is a product of its environment. 
Yes, I will give you that Pitbulls were bred to attack and hold a bear back in the early 1800s. However, that is not the case today. Pitbulls are mean because they are not living in the right environment and/or they did not receive proper training. 
Other breeds of dogs were also bred to attack: Akita Inu, Staffordshire Terrier, Bully Kutta, Ca de Bou, Shepherd Dog, Dogo Argentino, Dogue de Bordeaux, Bullmastiff, Fila Brasileiro, Gull Dong, Gull Terr, Japanese Tosa, Korean Jindo Dog, Neapolitan Mastiff, and there are dozens and dozens more. 
So here is my question: Why is the Pitbull breed always targeted?
We need to be blaming the humans that breed them to fight and adopt them without giving them the love and attention that they require. 
All dogs can attack. They are animals. The American Society for the Prevention of Cruelty to Animals has a stance that I wholeheartedly agree with when it comes to breeds of dogs, like Pitbulls, "the responsible ownership of any dog requires a commitment to proper socialization, humane training, and conscientious supervision." 
I did not always think like this. It was only until I came in regular contact with a mixed breed of this dog that changed my mind. I now know that I was ignorant. 
Duke is a brindle pit lab mix. He is the nicest, sweetest, most graceful dog that I have ever, ever come in contact with. He does not have a mean bone in his body, and he has proved that to me, time and time again. 
I have known Duke for about six months, and I have yet to hear him bark or growl. 
When you are sad, he is worried. When you are happy, he is jubilant. When you are mad, he is sad. 
Duke is exceptionally gentle. He loves stuffed animals. Most dogs would destroy them after a couple of months... this dog has yet to rip any of his ten stuffed animals that his owner says he's had since he was born. He is now four years old. 
Why is this dog like this? Because he received proper training. He received love and attention. He was nurtured. 
The saddest part of it all is that I connect with this dog more than my own. 
The ASPCA concludes it's article about controversial breeds with something that has resonated with me because of the truth that the statement holds: "All dogs, including pit bulls, are individuals. Treating them as such, providing them with the care, training, and supervision they require, and judging them by their actions and not by their DNA or their physical appearance is the best way to ensure that dogs and people can continue to share safe and happy lives together." 
Enter your number to get our free mobile app
ADORABLE DOGS OF THE JERSEY SHORE