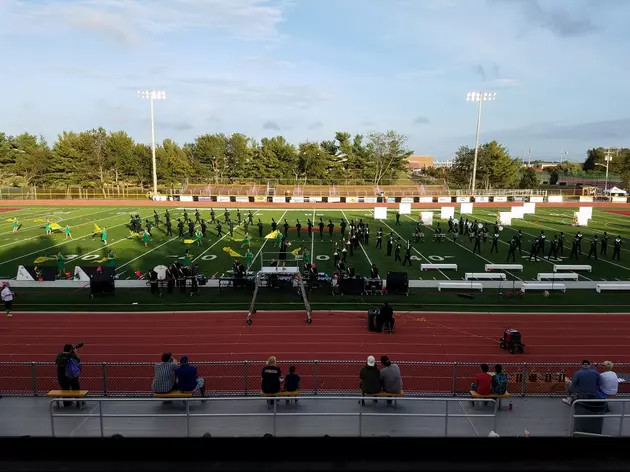 A Great Night of Music in Bayville
Photo by George W. Forman
Story by George W. Forman
This past Saturday night, music filled the air as Central Regional High School held their first Fall Festival of Music, part of the New Jersey Tournament of Bands, at Hugh J. Boyd Field. I had the best seat in the house to see and hear it all, as I was one of the public address announcers for the event. There were seven bands participating…Brick Township, Brick Memorial, Toms River High School North, Jackson Liberty, Barnegat, Woodstown High School (from Salem County), Winslow Township (from Camden County), along with the host Golden Eagle Band of Central Regional. And I can tell you that everyone brought their "A" game to the party.
The first part of the show took place in the late afternoon, during what photographers call "golden hour", adding to the color of the day. Brick Township kicked it off with their "Trains, Planes and Automobiles" program, followed by Brick Memorial with "Bloom", including a piece by David Foster and Carol Bayer Sager called "The Prayer". Toms River North had a 3 movement suite called "Coexist" (written just like the bumper sticker with the religious symbols), and Jackson Liberty closed the first half with "Mountain Majesties" featuring purple mountain backdrops and songs including "Simple Gifts" and "Shenandoah".   The second half began as night fell, and Barnegat presented "In a Darkened Hall" with touches of Grieg's "Hall of the Mountain King".  Woodstown turned their brass into gold with "Alchemy", and Winslow Township followed with a powerful program called "Do You Want to Be Healed?" which ended on a light note with their version of "Shut Up and Dance". And it wrapped up with Central Regional's "#Senior Year" selections, including "Viva La Vida". Before the scores were announced, all the bands came back to the field for a fun midfield dance party. The highest overall score went to Brick Memorial, 89.95.
It's hard for me to believe that this was the first time that Central hosted an event like this. It was the culmination of a lot of work and planning, and it ran like they had been doing it for years.   The compliments to everyone involved were deserved. For the students, this was a busy weekend for a lot of bands, between football games, competitions, and Columbus Day parades. But they love it! This was my first time as a P.A. announcer and I was a bit nervous about it. It's a different experience from what we do on the air. But I was encouraged to have fun, and fortunately, with a lot of guidelines to help (particularly going through all the "airgram" messages), I certainly did. My thanks to former WOBM staffers Allison and Lee Kobus for inviting me, everyone at Central, and to the band parents for the great post-competition dinner!