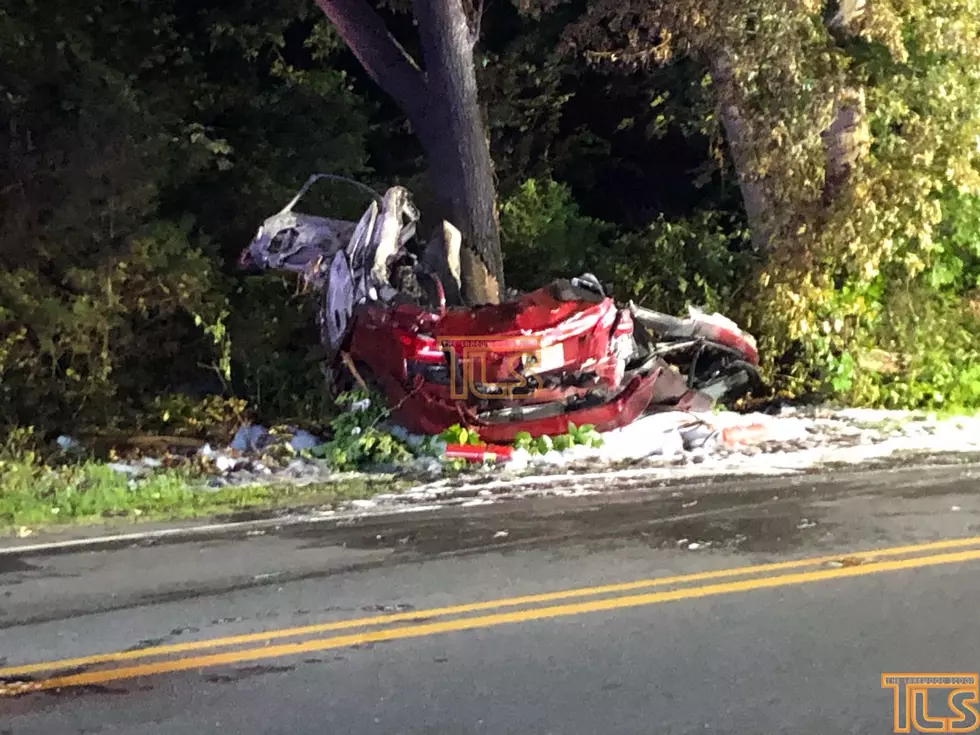 Two people killed in car accident following reported police pursuit
Car crashes into pole on Massachusetts Avenue in Lakewood. (Photo Courtesy of The Lakewood Scoop)
UPDATE: It all began with Toms River Police Officer Kyle Lamar trying to make a motor vehicle stop of a 2016 Red Ford Focus around 6:51 pm that was wanted for allegedly being involved in a shooting in Lakewood earlier on Thursday.
The patrolman than signaled his lights for the driver to stop.
That's when the pursuit began but it ended when the driver ran a red light at the intersection of Route 70 and Massachusetts Avenue in Lakewood.
Toms River Police Officers eventually caught up with the car to see it crashed into a tree and was engulfed in flames between Massachusettsn and Cross Street.
The two Toms River officers then rescued the entrapped driver, carried him across the street and began to give him CPR.
EMS and Lakewood Police then arrived and tried helping with the driver and the other occupant of the Ford Focus, both of whom later died from their injuries.
Both Toms River officers on scene were treated at Community Medical Center for smoke inhalation.
OCPO Spokesman Al Della Fave says the Ford Focus was traveling north on Massachusetts Avenue at a high rate of speed when it lost directional control and collided into a tree on the southbound side of the road.
The driver was not wearing a seat-belt and the registration for the car was suspended.
The occupants of the Ford Focus are Rynell Bennett (the driver), 29, of Bellefonte PA, and the passenger is a 16-year old male from Gloucester NJ.
Assisting OCPO in the investigation were the Ocean County Fatal Accident Support Team (FAST), the Ocean County Sheriff's Department CSI and Ocean County Medical Examiner's Office.
Read the original article below:
A driver who sped into Lakewood Township fleeing Toms River Police is killed after crashing his car into a pole near Massachusetts Avenue causing the car to catch fire.
The driver was extricated and CPR was given.
There are multiple versions of what happened circulating the internet including where the car came from and that it was fleeing from a pursuit or were involved in a crime earlier in the day Thursday.
Further details on the reported pursuit and car accident have not yet been released by authorities.
The Ocean County Prosecutor's Office is leading the investigation.
(Article continues below video that is courtesy of ABC-7 in New York)
More From The Jersey Shore: