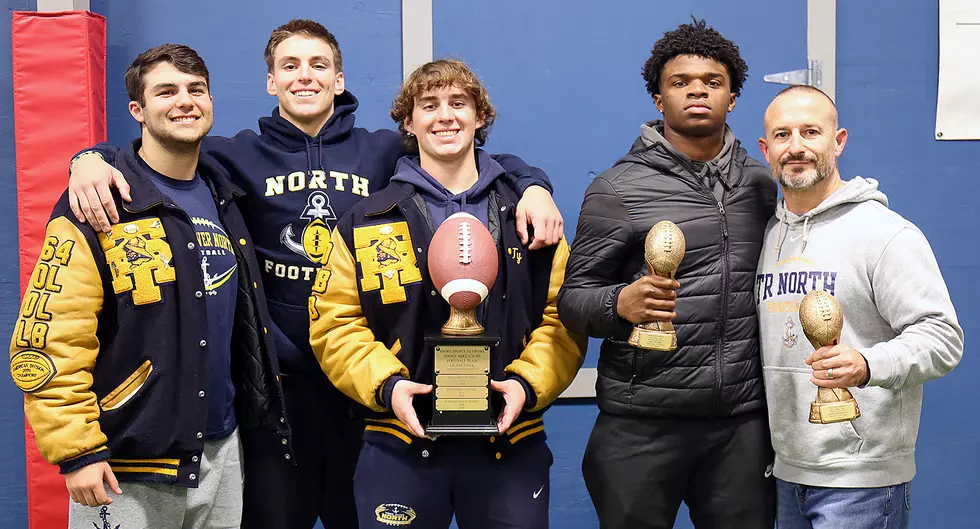 TR North Mariners Dominate SSN Postseason Awards
TRN players Josh Kaye, Ty Kazanowsky, Ty Boland, Micah Ford & Coach Dave Oizerowitz
On the day with the High School basketball and wrestling seasons get underway I want to put the lid on what was a historic football season because Wednesday night our Shore Sports Network announced its major postseason awards as part of our Varsity Link Coaches Corner which was broadcast at Asylum Sports Center in Wall.
Just about every newspaper and website devoted to covering Shore Conference football does something similar but ours is somewhat unique as we featured our honorees during a live broadcast which you can view at any time on shoresportsnetwork.com.
Both our Offensive and Defensive Players of the Year are just juniors which is bad news to their 2023 opponents.  On offense who else could it be but Micah Ford of Toms River North who had a record-breaking season which was truly one for the ages.  While it was a bit tougher when it came to the defensive award we had little trouble selecting Middletown South linebacker Colin Gallagher who was at times a one-man wrecking crew.  Again both will be tack to terrorize the opposition on both sides of the ball next fall.
Several years ago we came up with a Most Valuable Player Award and while the criteria is somewhat subjective one of the factors is to consider what kind of season the team would have without him.  QB Tyler Douglass led Ocean to an 8-0 regular season but unfortunately an injury kept him out of the playoffs and the Spartans make a quick exit which was a testament to his importance.  The Temple University recruit both passed and ran for over 1,000 yards and personified with an MVP is all about.
Our Coach of the Year goes to Toms River North's Dave Oizerowitz who guided the Mariners to a perfect 14-0 season and the first-ever overall Group 5 championship.  It should therefor come as no surprise that the Mariners have earned the Jersey Mike's Team of the Year trophy which they will keep for a year…or maybe longer.
By the way our complete All-Shore package will appear on www.shoresportsnetwork.com on Saturday.
Now it's onto the winter sports season.
5 New Year's Eve Fireworks at the Jersey Shore Not to Miss