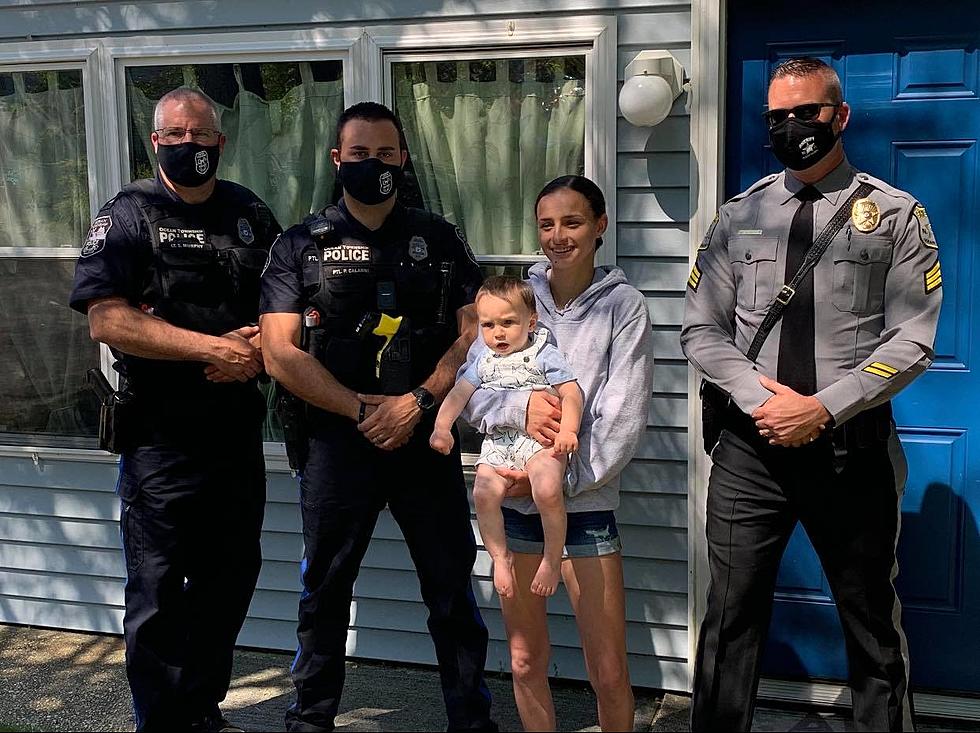 Three Ocean County law enforcement officers save the life of 10-month old boy
(Photo Credit: Ocean Township Police Department)
Two Ocean Township Police Officers (Ocean County) and one from the Ocean County Sheriff's Department saved the life of a 10-month old boy who had become unresponsive at the Dunkin Donuts on Route 9 earlier this month.
Ocean Township Police said that on May 7 around 9:37 am, Patrolman Philip Calanni and Lieutenant Scott Murphy along with Sergeant Deleeuw of the Ocean County Sheriffs Department happened to be in the Dunkin Donuts after an assignment where they were flying a drone in town when a woman came in carrying her 10-month old infant son who had become unresponsive.
Officers on scene quickly learned the infant wasn't breathing and had no pulse so CPR began to resuscitate the little boy.
The child was able to regain a pulse and began breathing on his own, thanks to the officers applying CPR prior to the arrival of first-aid squads.
Lieutenant Scott Murphy and Patrolman Kyle Pimm ended up riding in the ambulance with the mother and child on the way to Southern Ocean Medical Center where the little boy received additional treatment and underwent an evaluation.
He was discharged from the hospital several days afterwards and returned home and recently all involved were reunited.
The Ocean Township Police Department Detective Bureau, Sergeant Michael Ward and Patrolman Michael Cicero assisted in the investigation.
"A great ending to what could have been a horrible moment," Ocean Township Police said in a statement.
You can follow Vin Ebenau on Twitter and Instagram and email news tips to vin.ebenau@townsquaremedia.com.
When Ocean and Monmouth County Police saved the day
Have You Seen Them? Monmouth County's Most Wanted
12 Times Being High Cost NJ Residents & Towns
Have You Seen Them? Ocean County's Most Wanted
NEXT: 10 Jersey Shore School Districts Losing Millions From S2 School Funding Formula
Ten times drunk driving changed New Jersey Lives Forever
Strange NJ Laws You've Never Heard Of
Marijuana legal in NJ: How do the laws work?
Answers to common questions about legalized recreational marijuana in New Jersey and rules about underage use of weed.
NEXT: INSIDE JOE PESCI'S HILARIOUSLY OVER-THE-TOP LAVALLETTE MANSION
LOOK: GO INSIDE JON BON JOVI'S $20 MILLION MIDDLETOWN MANSION
Go Inside Mike 'The Situation's' NJ Mansion
TAKE A TOUR OF JON BON JOVI'S NEW $43 MILLION PALM BEACH MANSION
Jersey Shore Nor'easter 2021 Listener Pictures
LOOK INSIDE: The Most Expensive House in Rumson
This is the most expensive house for sale in Rumson, NJ in 2021
Peek Inside Snooki's New Toms River Waterfront Home
LOOK: See the iconic cars that debuted the year you were born
NEXT: The 100 Best Places to Live on the East Coast