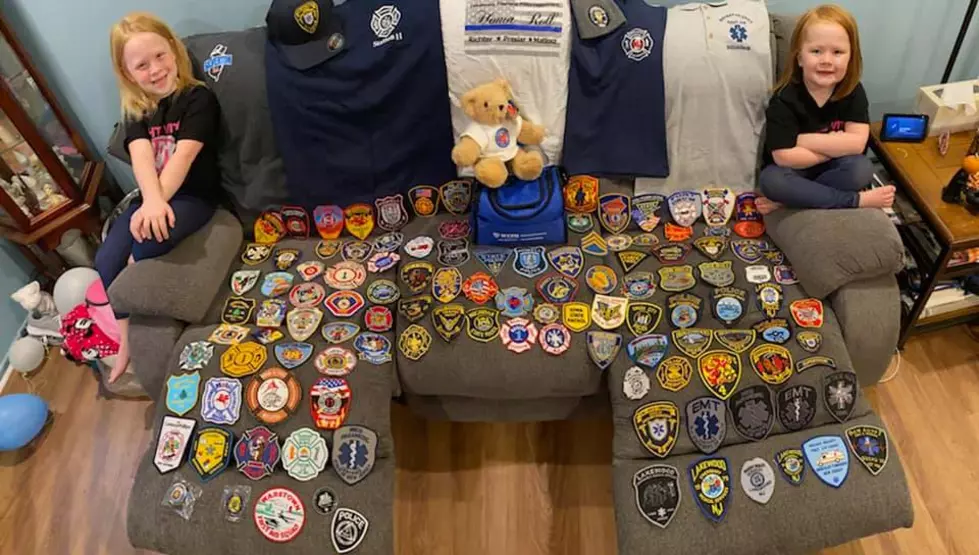 South Toms River Girl Fighting Cancer Has Gotten Hundreds Of Patches Already
Photo courtesy of the Colavito family
I can not tell you how much this truly and genuinely warms my heart.
It was only about two weeks ago that we shared Sophia's story and her small collection of first responder patches from South Toms River and Lavallette.
At the time of the original story, Sophia and her sister Isabella had about half a dozen patches.
Well, suffice to say that the response since then has been nothing short of jaw-dropping.
In the two weeks since we first published the story, the Colavito family has gotten nearly 300 pieces of mail.

And Sophia's mother Lindsay tells me that they've only opened about a quarter of the envelopes so far!
Here's just a small idea of the quickly growing collection:
Sophia's growing patch collection
The scope of the collection is truly amazing, with police, fire, and EMS departments being represented from all over New Jersey all the way to the other side of the country with LAPD patches.
There are patches from departments big and small, from major metropolitan hubs serving millions like New York City and Chicago all the way to departments like Chagrin Falls, Ohio, population: 3,963.
There are also patches representing far flung departments from around the world like Italy's Vigili del Fuoco fire and rescue service, Queensland (Australia), Heidelberg (Germany), Korea, Wales, and more.
Even NASA sent over patches (jealous!).
The ones that have a special meaning for the Colavito family are the many pink patches that they've gotten, representing breast cancer awareness.
As for a favorite so far, Sophia and her sister Isabella love the patch from the North Pole!
If you would like to add to Sophia's collection or you know of departments who might be able to pass along patches, they can be mailed here:
PO Box 1964
Toms River, NJ 08754
Enter your number to get our free mobile app