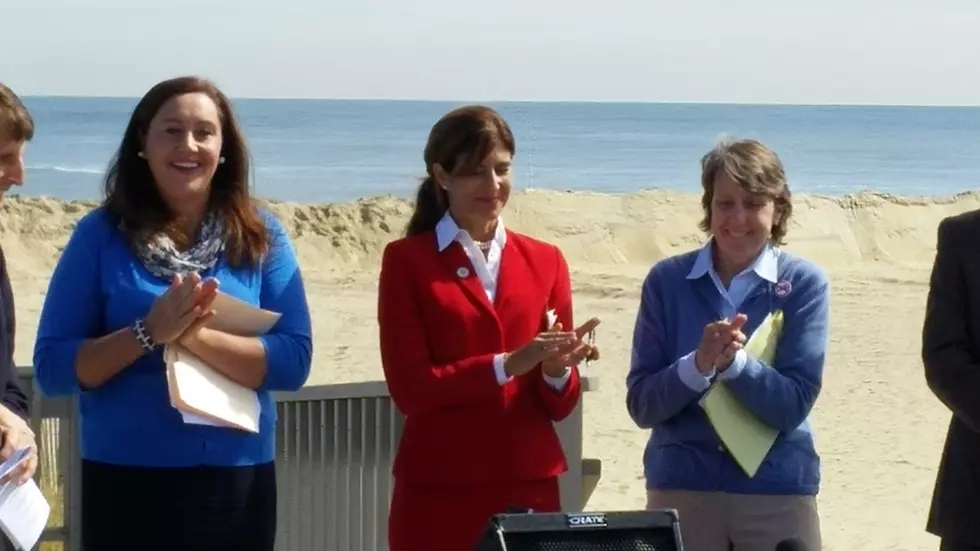 Shore lawmakers, environmentalists urge Port Ambrose veto
Assemblywoman Caroline Casgrande, State Senator Jennifer Beck and Cindy Zipf, Executive Director, Clean Ocean Action (Vin Ebenau, Townsquare Media)
The proposed project Port Ambrose which will be 28 miles off the coast in Monmouth, is planned to add 800 construction jobs, 30 years of additional revenue through federal and state taxes and reduce smog by using other fossil fuels according to Liberty Natural Gas. 
---
Tuesday in Sea Bright, shore State Senator Jennifer Beck (R-11), Assemblywoman Caroline Casagrande and four environmental groups voiced an objection and concern over the projects potential outcome.
The lawmakers spoke in support of Clean Ocean Action, New Jersey Sierra Club, Surfrider Foundation, New Jersey Food and Water Watch, and Clean Water Action, all of whom voiced opposition from the perspectives of their organizations.
Governors Christie and Cuomo can veto this project after public hearings take place next month. They will have 45 days to decide whether the project should move forward.
"There will be no construction jobs for New Jersey, there will be no new revenue for New Jersey," said Beck. "This gas is going to go right to Long Island." Beck emphasized the damage that liquefied gas can do to the environment by killing marine wildlife.
The Senator also warned that natural gas, once spilled into the water, can also carry a national security threat.
"These ships carry a very, very volatile fuel," said Beck. "The ships are as big as The World Trade Center is high."
Meanwhile, Councilwoman Casagrande finds the project unsafe and unnecessary. "The last thing we need is a giant port facility filled with completely combustible liquefied natural gas," said Casagrande.