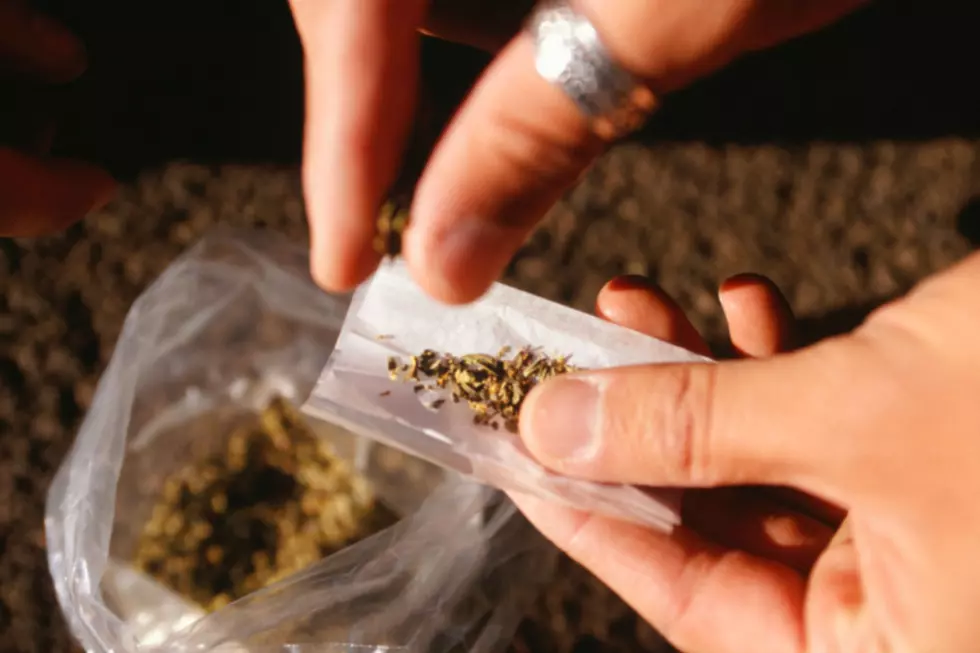 Seaside Heights, New Jersey Administration calls on Governor to repeal Marijuana law
(Getty Images)
The smoke you see in the sky isn't from Marijuana puffs but from a growing frustration coming from Jersey Shore towns, police and even some parents appalled at the oversight in the new Marijuana law signed by Governor Phil Murphy and guidelines put into play by Attorney General Gurbir Grewal.
New Jersey voters did overwhelmingly said Yes to legal weed in November but there are certain sections of the law that many towns, police and parents are raising a red flag on, hoping to see change soon.
The debate isn't over whether or not the law should or shouldn't have been passed but the bi-laws that the State put in after the fact.
On Wednesday night, the Seaside Heights borough council passed a resolution calling on Governor Murphy and State Lawmakers to repeal Senate Bill #3454, that prohibits police and parent interaction on a first offense and the section that would charge police officers with a 3rd Degree Crime for Civil Rights Depravation.
"The public is entitled to pass the law and okay, they passed it but now when they write the bill, they made it so hard for police officers to do their job. I mean, in terms of the safety of the public, they weren't thinking," Seaside Heights Mayor Tony Vaz tells Townsquare Media News. "This bill has to be repealed, we're not only going to have problems in Seaside Heights but every Shore community is going to have problems."
The new law also ties together underage alcohol rules which is another cause for concern for Mayor Vaz and many parents who would want to know if their underage son or daughter is in trouble.
Even if someone is walking down the street smoking marijuana, police no longer have probable cause to stop and question them.
"How about if the kid is 17, we can't stop them unless they're driving, but if they're walking, we can't do anything about it. The cops hands are tied, and now he or she gets in a car because we couldn't stop them when they were walking and they get into an accident and kill somebody," Mayor Vaz said. "They've got to live with that for the rest of their lives."
"It is particularly critical to Jersey Shore communities that Senate Bill No. 3454 be urgently repealed. This is not a debate about the legalization of recreational marijuana. The voters of New Jersey spoke very clearly on that issue when they approved Public Question #1 in November," Seaside Heights Business Administrator Christopher Vaz tells Townsquare Media News. "The problem we face is that the Legislature approved a law that makes it virtually impossible to keep marijuana off our beaches and boardwalks, especially in the case of underage persons. And for some unknown reason, completely out of left field, the Legislature decided in the same law to protect underage persons from any type of reasonable enforcement involving underage possession of alcoholic beverages. Parents of underage persons should be appalled by the Legislature's overreach. Lastly, the Legislature actually criminalized the good faith actions of law enforcement officers. We need to ask ourselves, what law enforcement officer is going to enforce a law that subjects the officer to 3-5 years in prison? This law was adopted without any public transparency and must be repealed in the interest of protecting children and ensuring that law enforcement officers are able to do their jobs without fear of criminal repercussions."
In a copy of the resolution passed by the Seaside Heights Council, obtained by Townsquare Media News, the Council said, in part:
"The legislation is treacherous to law enforcement officers because it creates a penalty of 3rd Degree Deprivation of Civil Rights if an officer uses the odor or possession of marijuana or alcoholic beverages as the reason for initiating an investigatory stop of a person. The new law states that a law enforcement officer cannot use the odor of marijuana or alcohol as reasonable articulable suspicion to initiate an investigatory stop. The new law states a minor cannot consent to be searched and that a law enforcement officer no longer has probable cause to search a minor for illegally using marijuana or alcohol. And if an officer violates a minor's rights by using pot or alcohol as the reason for a search then the officer will be charged with the crime of deprivation of civil rights.
Senate Bill No. 3454 establishes penalties of only warnings for illegal use by minors of marijuana or alcohol but it essentially prevents an officer from even approaching a person suspected of being a minor. The smell of marijuana and its use in the presence of a law enforcement officer will no longer be grounds to search an individual. While marijuana is now legal for those 21 and older Senate Bill No. 3454 is an assault on law enforcement's ability to enforce the law. Senate Bill No. 3454 is an attack on law enforcement officers by making law enforcement officers the target of punishment rather than the individuals breaking the law. This language will have dangerous consequences for the public and law enforcement officers.
Senate Bill No. 3454 was passed with little to no discussion, no public transparency, and no public debate.
By passing Senate Bill No. 3454, the Legislature and Governor Phil Murphy ignored the judgment of parents over the lives of their children. The requirements of the new law will keep parents in the dark about what may be happening in their children's lives. It shows children there are no major consequences if they are found using marijuana or alcohol for the first time. Parents should have the right to know if their child is using or in possession of marijuana from the first encounter and be given the chance to discuss its consequences before it potentially becomes a larger issue."
You can follow Vin Ebenau on Twitter and Instagram and email news tips to vin.ebenau@townsquaremedia.com.
Have You Seen Them? Ocean County's Most Wanted
NEXT: INSIDE JOE PESCI'S HILARIOUSLY OVER-THE-TOP LAVALLETTE MANSION
LOOK: GO INSIDE JON BON JOVI'S $20 MILLION MIDDLETOWN MANSION
Go Inside Mike 'The Situation's' NJ Mansion
TAKE A TOUR OF JON BON JOVI'S NEW $43 MILLION PALM BEACH MANSION
Jersey Shore Nor'easter 2021 Listener Pictures
9 REASONS NOT TO LIVE AT THE JERSEY SHORE
Peek Inside Snooki's New Toms River Waterfront Home
LOOK: See the iconic cars that debuted the year you were born
NEXT: The 100 Best Places to Live on the East Coast
KEEP READING: Here are the best places to retire in America