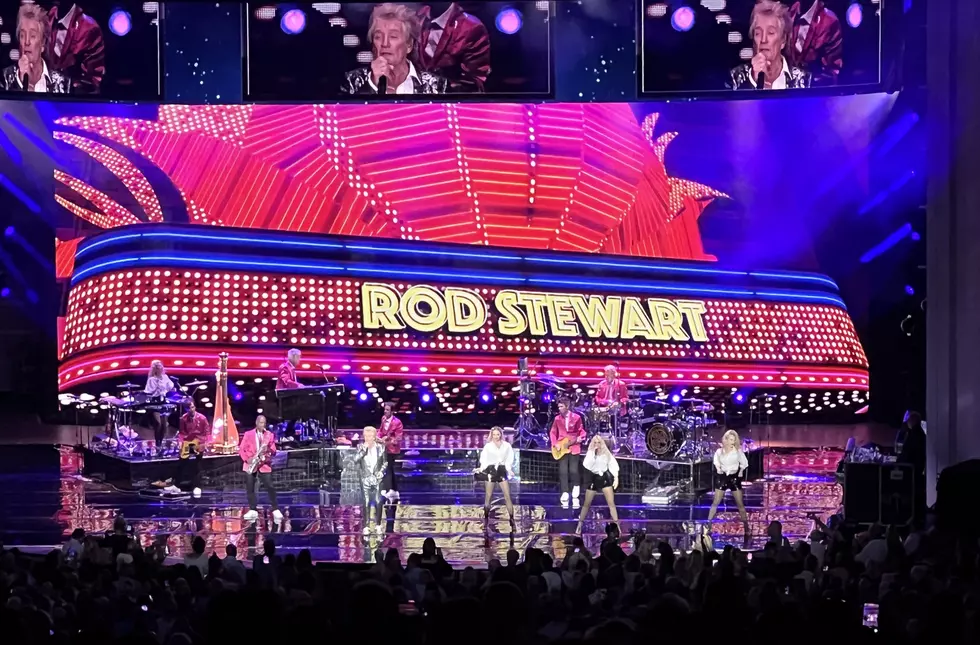 Rod Stewart and Cheap Trick Share Music and Memories at PNC Bank Arts Center in Holmdel, NJ
Shawn Michaels
This has been a summer of bucket list concerts for me and April. We have had the chance to check out shows with several "bucket list" acts. The Who, Elton John, and now Rod Stewart. We never had a chance to see Rod and at 77 years of age who knows? He didn't bill this as a "final" tour but as he approaches 80 we felt we better check him out since he's coming to Jersey.
Rod was amazing Tuesday night at the PNC Bank Arts Center in Holmdel. We had many listeners who won tickets with us at the show and it appeared sold out for the most part. Rod started the show by thanking everyone for coming out, he said things are expensive these days and he appreciated folks making it to the show and hoped he gave them their money's worth.
At 77 Rod Stewart was still moving. He made his way across the stage numerous times dancing with members of his band, only occasionally taking a breather to change wardrobe and grab a sip of tea. Rod had a great supporting band, including several ladies who played fiddles, drums, guitars and danced. At one point he said "the power of the ladies".
Rod covered all the favorites and the crowd seemed to enjoy every minute.
Cheap Trick opened the show and it was a family affair as the group brought their kids into the line-up to help. Rick Neilsen, allegedly, is recovering from an ankle injury so Robin Zander son to over guitar duty. At one point we are almost certain that one of Zander's daughters was singing back-up with the band. Cheap Trick opened the night with "Dream Police" and finished the night with fan favorites "I Want You to Want Me, The Flame, and Surrender." By the end of their set, the sun was down the lights were on and everyone was on their feet enjoying the music and beautiful weather.
All in all, it was a great night of music and memories and these veteran rockers gave a great night of fun for everyone.
Rod Stewart & Cheap Trick
Rod Stewart & Cheap Trick at PNC Bank Arts Center in Holmdel New Jersey
A to Z: These 24 Bands Are Performing This Saturday At Hawkstock!
These incredible artists will virtually grace the Coors Light Stage hundreds of thousands of fans!