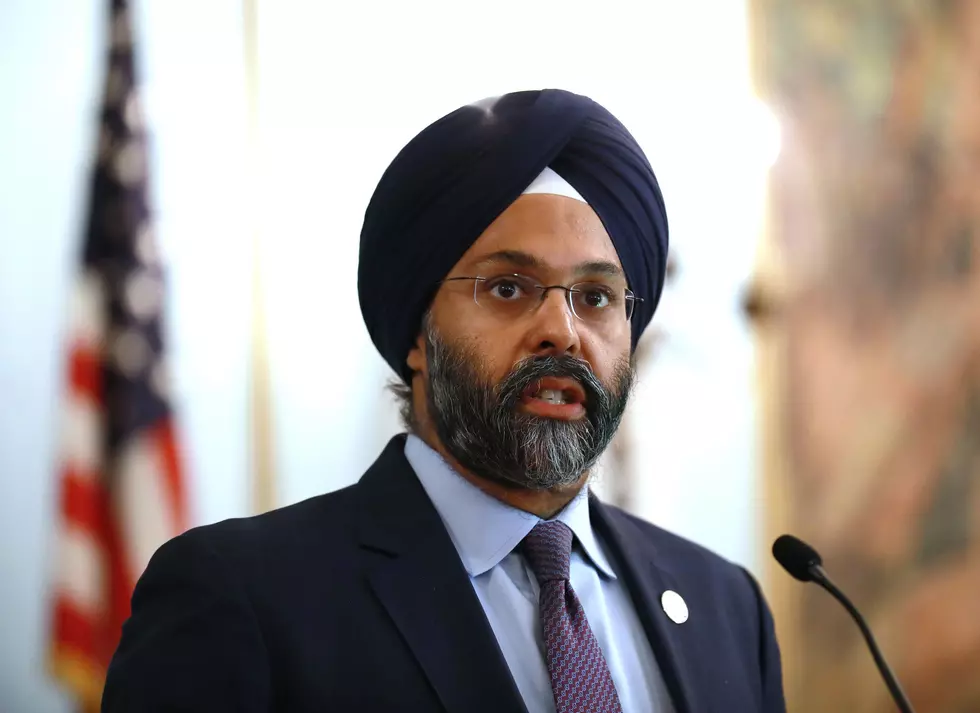 Red Bank broker-dealer collected millions in excessive trading scheme, AG says
New Jersey Attorney General Gurbir Grewal attends the swearing in ceremony of Acting Prosecutor Lyndsay Ruotolo at the Union County Courthouse in Elizabeth, N.J. on Thursday, July 18, 2019. (Office of the Attorney General / Tim Larsen)
In the midst of their ongoing investigation of First Standard Financial Company, LLC, in Red Bank, the New Jersey Bureau of Securities has revoked the broker-dealer's registration and obtained a court-ordered freeze of the firm's assets amid findings that its agents collected more than $28.7 million through pervasive unauthorized, unsuitable, and excessive trading that unjustly enriched the firm and its agents at the expense of its customers, announced New Jersey Attorney General Gurbir Grewal.
According to documents issued by the Bureau and filed in Superior Court, First Standard routinely hired agents with a history of customer complaints and regulatory problems involving excessive, unsuitable, and unauthorized trading.
First Standard and these agents then allegedly defrauded the firm's clients through "unsuitable and frequently unauthorized in-and-out trading for the purpose of generating sales commissions at their clients' expense."
Investigators said that this included short-term trading in bonds and other securities for which active trading is unsuitable.
First Standard was complicit in its agents' unlawful conduct, the Bureau found, as well as that the sales commissions were so high that the accounts would have had to generate extraordinary returns simply to break even, much less earn a profit for the client.
"Investors are exposed to significant risks when financial services firms turn a blind eye to excessive, unauthorized trading on clients' accounts and happily profit from the commissions and fees generated by such misconduct," Attorney General Grewal said. "By revoking First Standard's registration and freezing their assets, we're sending a clear message to broker-dealers in New Jersey today that they are responsible for the supervision of their agents and will face serious consequences if they fail to do so."
In addition to issuing a Summary Order revoking First Standard's broker-dealer Registration on October 31, the Bureau filed documents in New Jersey Superior Court in Essex County asking the court to temporarily restrain First Standard from destroying any documents, computer files, or other business records, to freeze the bank accounts and other assets of the firm and to order First Standard to provide the Bureau with a list of all its assets and liabilities.
The Honorable James R. Paganelli, J.S.C. granted all of the Bureau's requests including the freeze of First Standard's assets.
The Bureau has also asked the court to assess civil monetary penalties against First Standard for each violation of the Securities Law and to require the firm to pay restitution to clients and disgorge all profits or funds gained through violations of the Securities Law.
Last month, the Bureau revoked the registration of First Standard agent Philip J. Sparacino, who was the last producing agent at First Standard, and assessed him $250,000.00 in civil penalties for defrauding clients through excessive, unsuitable trading activities that earned him and First Standard more than $1.4-million in commissions and fees at their clients' expense.
In May, the Bureau revoked the registration of former First Standard agent Gabriel Block and assessed him $750,000 in civil penalties for engaging in unsuitable, high-cost, fraudulent trading strategies that generated at least $1.6 million in commissions and fees for himself and his associated broker-dealers at the expense of his clients.
"Our investigation into excessive, unsuitable, and unauthorized trading at First Standard isn't over," Paul Rodríguez, Acting Director of the Division of Consumer Affairs, said. "We fully intend to hold accountable everyone who contributed to their egregious abuse of the trust investors placed in them."
The Bureau determined that First Standard was "keenly aware" of its agents' conduct, as evidenced by the numerous client complaints and client-initiated arbitration filings, daily trade reports, exception reports, and regulatory inquiries.
However, they felt that the firm continued to defend the conduct, or placate complainants with minor commission refunds, while continuing to reap the benefits of its ongoing fraud.
At the end of 2018, First Standard had 44 agents registered with the Bureau and had branch offices in New York.
They determined that there was then an exodus of agents and principals leaving to join other broker-dealers.
As agents left, many of their clients still maintained accounts at First Standard, which investigators said created an opportunity for other agents to access dozens of newly inherited client accounts and to generate exorbitant commissions at the clients' expense.
Sparacino's alleged unlawful trading activities increased as other agents left the firm.
In April and May 2019, Sparacino generated a total of only $24,258 in commissions and fees.
By comparison, from June 1, 2019 through October 4, 2019, Sparacino generated $1,452,514 in commissions and fees.
Sparacino's registration as an agent was revoked by the Bureau on October 8, 2019.
"First Standard held itself out as a legitimate financial services firm but in reality the firm served as a haven for greedy, dishonest agents who traded clients' accounts like sharks in a feeding frenzy," Christopher Gerold, Chief of the Bureau of Securities, said. "Through the actions announced today, we put an end to First Standard's unlawful boiler room operation and secured a court order to preserve what's left of its ill-gotten gains to potentially reimburse clients for the money they lost."
Deputy Bureau Chief Amy Kopleton, Director of Examinations Stephen Bouchard, and Investigators Dorian Gross, Perry Traina and Judith Keilp investigated the matter for the Bureau.
Assistant Attorney General Brian F. McDonough, Deputy Attorneys General Andrew H. Yang, Alex Schmidt, Isabella Trifilio Stempler and Evan A. Showell, and Special Services Employee H.
Onno Chekemian of the Securities Fraud Prosecution Section within the Division of Law's Affirmative Civil Enforcement Practice Group represented the Bureau in this matter.