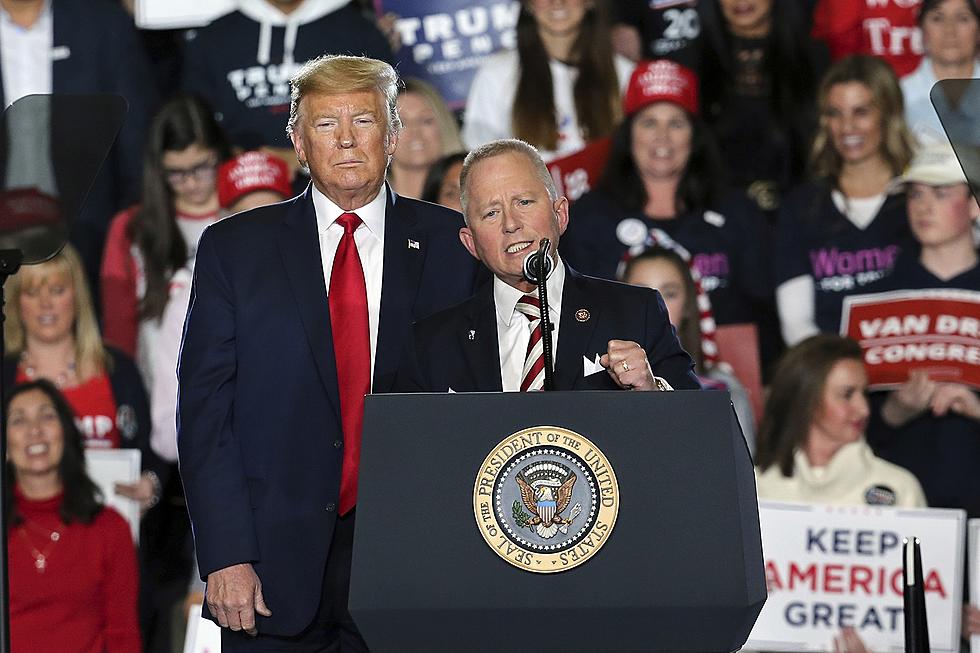 NJ congressman calls for Biden, Harris, Pelosi to resign over Afghanistan
President Donald Trump, left, listens as Rep. Jeff Van Drew, R-New Jersey's 2nd district, speaks at a campaign rally in Wildwood in 2020 (AP Photo/Mel Evans, File)
One of New Jersey's two Republican congressmen has called for the resignation of President Joe Biden over the fall of Afghanistan.
U.S. troops started their withdrawal from the country in July and it was believed by the Biden Administration it would take some time for the Taliban to regain control. The speed at which it happened caught President Joe Biden and members of his administration off guard.
"My God, it is one of the darkest, most embarrassing days we've had in our country, and it's a tremendous embarrassment for the Biden administration," U.S. Rep. Van Drew, R-N.J. 2nd District, said on Fox News "Sunday Night in America." "But with this administration it is failure after failure after failure."
The former Democrat was concerned about people left behind will be tortured, killed raped and beheaded because of the administration's poor exit strategy from Afghanistan.
"Honest to God, I cannot believe I'm saying this, it literally is time for this president to resign. it is time for this vice president to resign. It is time for the Senate president and speaker to resign. We need new people, even new Democrats, hopefully that are moderates. We can't keep doing this."
Van Drew said he believes there would have been a different outcome with the Republican plan.
Former President Donald Trump also called for Biden to quit in a statement released on Sunday.
Biden address nation
Striking a defiant tone, Biden said Monday that he stands "squarely behind" his decision to withdraw U.S. forces from Afghanistan and that the Afghan government's collapse was quicker than anticipated.
Biden said he was faced with a choice between sticking to a previously negotiated agreement to withdraw U.S. troops this year or sending thousands more service members back into Afghanistan for a "third decade" of war.
Biden said he will not repeat mistakes of the past and did not regret his decision to proceed with the withdrawal.
"I stand squarely behind my decision," Biden said in a televised address to the nation from the White House East Room. "After 20 years, I've learned the hard way that there was never a good time to withdraw U.S. forces."
Biden said he'd rather take the criticism over the fallout in Afghanistan than leave the decision to another president. He said the decision to leave Afghanistan is "the right one for America."
Presidents Barack Obama and Donald Trump also yearned to leave Afghanistan, but ultimately stood down in the face of resistance from military leaders and other political concerns. Biden, on the other hand, has been steadfast in his refusal to change the Aug. 31 deadline, in part because of his belief that the American public is on his side.
For years, the U.S. sought an exit from Afghanistan. Then-President Trump signed a deal with the Taliban in February 2020 that limited direct military action against the insurgents. That allowed the fighters to gather strength and move quickly to seize key areas when President Joe Biden announced his plans to withdraw all American forces by the end of this month.
A late July ABC News/Ipsos poll, for instance, showed 55% of Americans approving of Biden's handling of the troop withdrawal.
Most Republicans have not pushed Biden to keep troops in Afghanistan over the long term and they also supported Trump's own push to exit the country. Still, some in the GOP stepped up their critique of Biden's withdrawal strategy and said images from Sunday of American helicopters circling the U.S. Embassy in Kabul evoked the humiliating departure of U.S. personnel from Vietnam.
(Includes material copyright 2021 The Associated Press. All rights reserved. This material may not be published, broadcast, rewritten or redistributed.)
Contact reporter Dan Alexander at Dan.Alexander@townsquaremedia.com or via Twitter @DanAlexanderNJ
READ MORE: What's in the infrastructure package for New Jersey?
NJ towns and their nicknames
NJ teachers and educators caught in sex crime busts
Over the past few years, state lawmakers have taken on the challenge of dealing with accused child predators among the ranks of teachers and educators.
In 2018, the so-called "pass the trash"
law
went into effect, requiring stricter New Jersey school background checks related to child abuse and sexual misconduct.
The follow individuals were arrested over the past several years. Some have been convicted and sentenced to prison, while others have accepted plea deals for probation.
Others cases are still pending, including some court delays amid the COVID-19 pandemic.