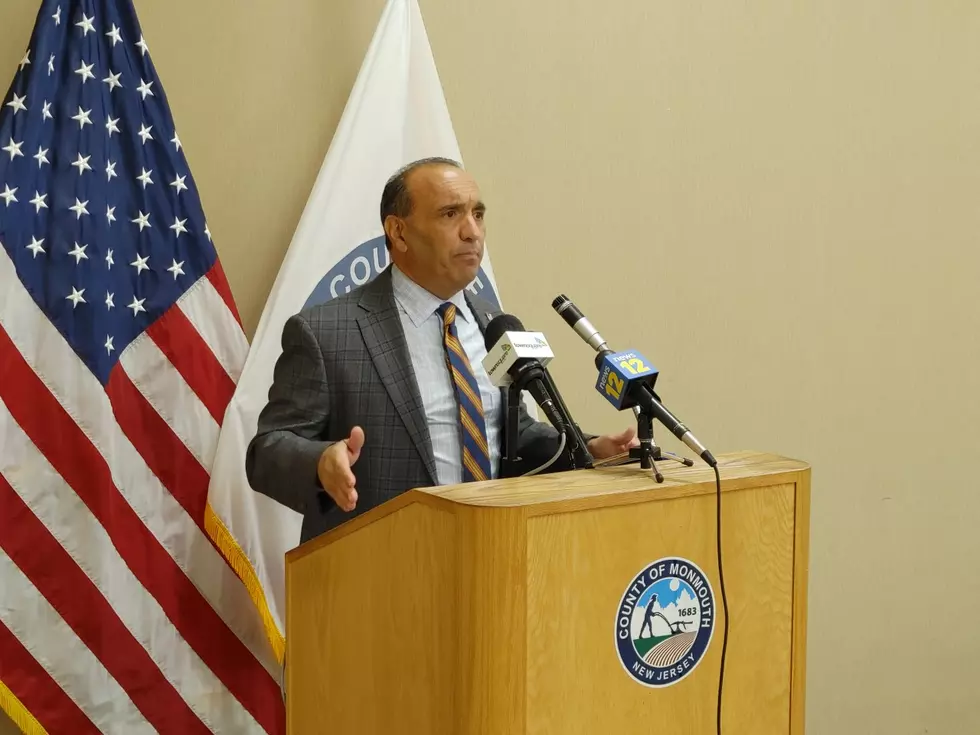 Monmouth County Special Needs schools can now get relief for Covid expenses
Monmouth County Freeholder Director Tom Arnone addresses the media. (Vin Ebenau, Townsquare Media NJ)
Monmouth County Freeholders are diverting the latest round of CARES Act funding to help special needs schools in the community as well as providing a new round for businesses.
The county is allocating $500.00 per student at each of these schools to help them enhance health and safety precautions and cover the cost of Covid related expenses.
Freeholder Director Tom Arnone says it's been a tough challenge for these schools determining the safest way to bring students back.
"These schools have had to work hard to figure out how to bring them (the students) into the schools safely. Unfortunately this has become a financial burden." Arnone said. "The students have worked so hard to get to where they are today and we want to make sure that this little bump in the road isn't a set back."
These schools have been challenged financially in making sure all the health and safety precautions are in place for students.
"They don't have the advantages of the same state aid funding as our (public) schools do and it's a little bit more challenging on a day to day basis in those schools," Arnone said. "There might be some extra precautions that have to be there and quite frankly, the last thing you want to do is because there's increased costs that are out there, take away from educating that special needs student."
Arnone says these grants will continue helping special needs schools provide an education to these students and help them develop important social skills.
The special needs schools in Monmouth County eligible for the grant are C.P.C. Behavioral Healthcare on High Point Center Way in Morganville, the Children's Center of Monmouth County on Green Grove Road in Neptune, Coastal Learning Center - Monmouth on Arnold Boulevard in Howell, Collier School on Conover Road in Wickatunk, Harbor School on Broad Street in Eatontown, Hawkswood School on Industrial Way West in Eatontown, Oakwood School on Hance Avenue in Tinton Falls, Rugby School on Belmar Boulevard in Wall, Schroth School on Kneely Boulevard in Wanamassa and Search Day Program on Wickapecko Drive in Ocean.
There will also be grants going towards vocational schools in Monmouth County.
The Freeholders are allocating $500 per full time student and $250 per part time student.
Meanwhile, as Governor Murphy continues to ponder when to increase indoor dining capacity, Monmouth County Freeholders are also diverting another round of cares act funding to help keep local businesses open.
Freeholder Arnone says they are expanding the Monmouth County CARES Act Economic Assistance Grant program so that small businesses can apply for an additional $10,000 in CARES Act funds.
"This is grant money that we know needs to be in the pockets of our small businesses to continue to drive our economy to be as successful as it once was and what we hope for it to be," Arnone said.
Small businesses who initially applied to the program, don't have to do so again with all the same information.
"If you are a business that applied and submitted $20,000 in receipts and purchase orders, you do not need to apply, we already have your information in the system and it will automatically be generated out," Arnone said. "For those businesses that went over the $10,000 but have increased it because of the expenses over this period of time that maybe brought it up to $20,000 please come in an re-apply and send in those additional purchases."
For those who haven't applied at all, Arnone encourages you to do so as soon as possible.
"This money is your money, this money is Monmouth County's money and this money is going to stay in Monmouth County," Arnone said.
Businesses who applied before can do so again with a limit of $20,000 combined.
All you need are your receipts and purchase orders that show Covid related expenses and present them to the county.
To apply for a grant, small business owners can go to www.MonmouthCountyCares.com or you can call 732-375-2196, Monday through Friday from 9:00 am to 5:00 pm.
You can follow Vin Ebenau on Twitter and Instagram and email news tips to vin.ebenau@townsquaremedia.com.
More From Townsquare Media Monmouth-Ocean:
Enter your number to get our free mobile app
Things I Am Looking Forward To Doing Post-Quarantine