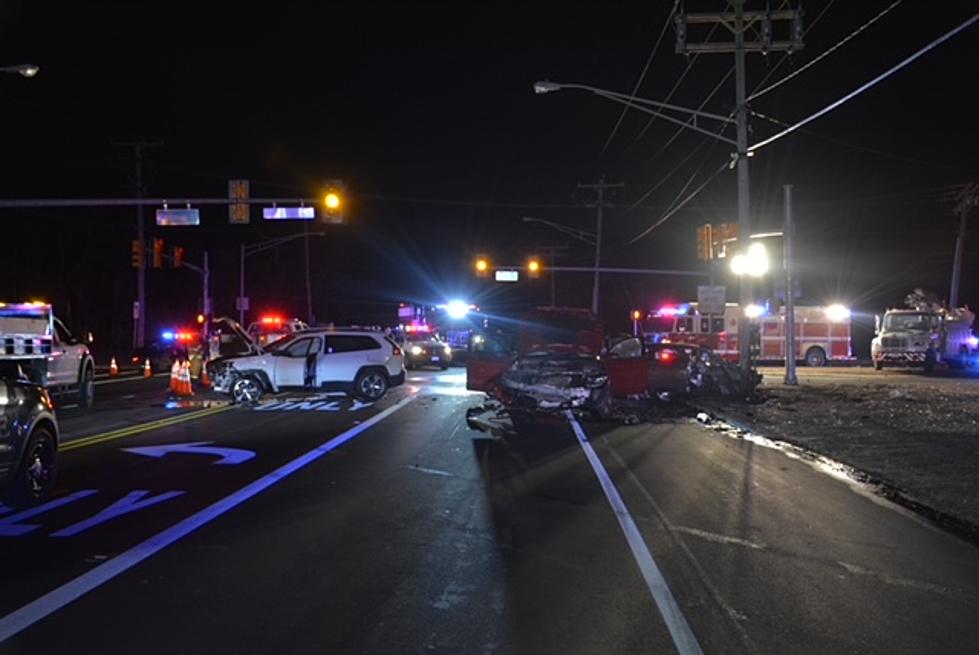 WANTED: Driver who caused three car crash in Manchester, NJ
(Photo: Manchester Township Police Department)
Police in Manchester Township continue to investigate a three-car collision on Saturday night at the intersection of Route 70 and Colonial Drive and are looking for the man who allegedly caused the crash.
The driver of a Nissan Altima, Roy Deronde Jr. of Kingston, Pennsylvania, was speeding across the westbound shoulder of Route 70 Saturday night when he ran a red light, struck a Jeep Cherokee -- which was heading south at the time -- and then crossed over the centerline and hit a Mercedes Benz -- which was heading east at the time -- but then kept going until he struck a utility pole, according to Manchester Police.
His Nissan Altima then caught fire, and Deronde Jr. then fled the area on foot leaving the vehicle behind engulfed in flames.
Manchester Police received a call around 5:56 pm and once on scene, saw the Nissan Altima in flames facing west on the eastbound shoulder, a Mercedes Benz facing west in the eastbound lane of Route 70, and a Jeep Cherokee facing north on Route 70 and Colonial Drive.
There was a passenger that Deronde Jr. left behind as well, Fannie Kistner of Kingston, PA, who also fled on foot but police said was later found and provided with medical attention.
Kistner was eventually brought to Community Medical Center for her injuries.
Manchester Police said that the driver and passenger of the Mercedes Benz, Richard and Cathy Kulaszewski, of Toms River, were uninjured from the crash, as was the driver of the Jeep Cherokee, Grace Poli of Manchester.
As for, Roy Deronde Jr., who is currently on the run, he was charged with, Assault by Auto, Leaving the Scene of an Accident Causing Serious Bodily Injury, Hindering Apprehension, and Obstruction of Justice by Manchester Police.
There is a possibility Deronde Jr. could face more charges as well, as the investigation continues into the crash, which right now police are saying that disregard of a traffic control device, and traveling at a high rate of speed are contributing causes to the collision.
"The whereabouts of Mr. Deronde are not known, however, there is an active warrant for his arrest. Please keep in mind that, although Roy Deronde has been charged criminally, he is innocent until proven guilty in the Court of Law."
This three-car crash is being investigated by Manchester Police Patrolman Conner Yatauro of the department's Traffic Safety Unit.
If you have any information on the accident, or the whereabouts of Roy Deronde Jr., you're asked to contact the Manchester Police at 732-657-6111.
Ten times drunk driving changed New Jersey Lives Forever