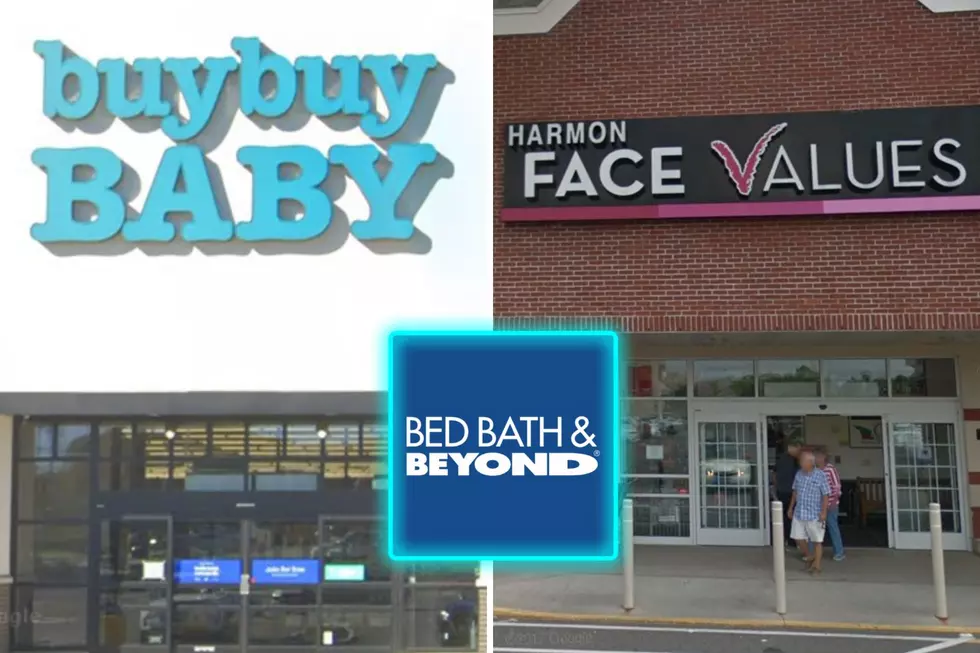 Bed Bath & Beyond closes more Harmon, Buybuy Baby stores in NJ
A few NJ stores owned by Bed Bath & Beyond are closing (Google Maps)
🔵 New Jersey-headquartered Bed, Bath & Beyond entered 2023 in financial distress
🔵 Three NJ stores under their main banner were slated for closure last year
🔵 More NJ stores under the company's other brands are also closing
---
All Harmon stores are now closing, Bed Bath & Beyond has announced.
Another six NJ Bed, Bath & Beyond stores were also added to the list, as of Jan. 31.
---
UNION TOWNSHIP (Union) — After a dismal end to 2022, Bed Bath & Beyond has announced another round of store closures, including a combined four Buybuy Baby and Harmon stores in New Jersey.
The company headquartered in Union County had a total of 762 Bed Bath & Beyond stores in the U.S., Puerto Rico and Canada as of Nov. 26.
They also had 137 Buybuy Baby stores and 50 stores that were Harmon, Harmon Face Values or Face Values.
During the fiscal 2022 third quarter, the company closed six stores, while running liquidation sales at Bed Bath & Beyond sites in Manalapan, Flanders and Paramus.
Those three locations remained on Tuesday's updated list of closures, along with the addition of two Harmon stores in Rockaway and Parsippany and two Buybuy Baby stores in Princeton and Rockaway.
The announcement left New Jersey with 30 Harmon stores, 26 Bed Bath & Beyond stores and eight Buybuy Baby stores.
"We want our customers to know that we hear them and are charging ahead every day to meet their needs," Sue Gove, President & CEO of Bed Bath & Beyond Inc. said in a written release on Tuesday.
"Our entire organization is laser-focused on maximizing the value of our company by reconnecting with our customers and positioning Bed Bath & Beyond, Buybuy Baby, and Harmon for long-term success."
The company previously sold off its Christmas Tree Shop brand in 2020 to Handil Holdings.
These seven stores owned by Bed Bath & Beyond were closed in NJ as of Thursday, as confirmed by the company:
● Bed Bath & Beyond, 34 E Ridgewood Ave., Paramus
● Bed Bath & Beyond, 30 International Drive, Suite 1, Flanders
● Bed Bath & Beyond, 13 Route 9 South, Manalapan
● Buybuy Baby, 601 Nassau Park Blvd., Princeton
● Buybuy Baby, 327 Mount Hope Ave. Suite 1003, Rockaway
● Harmon, 399 Route 46 West, Rockaway
● Harmon, 3189 Route 46 Morris Hills S/C, Parsippany
When asked whether employees would be given a chance to transfer to remaining locations, a spokesperson said workers could be offered positions at other stores or other benefits.
The following Harmon Face Values and Buybuy Baby stores were open in 2023:
Bergen County
Harmon Face Values
675 Paterson Avenue, Carlstadt, NJ 07072
Phone: 201-804-2738
Harmon Face Values
123 Ver Valen Street, Closter, NJ 07624
Phone: 201-750-9920
Harmon Face Values
725 River Road, Edgewater, NJ 07020
Phone: 201-941-3147
Harmon Face Values
370 West Pleasant View Avenue, Hackensack, NJ 07601
Phone: 201-646-0226
Harmon Face Values
145 East State Road 4, Suite #1, Paramus, NJ 07652
Phone: 201-368-7715
buybuy BABY
34 East Ridgewood Avenue, Paramus, NJ 07652
Phone: 201-689-6271
Harmon Face Values
700 Broadway, Suite 32, Westwood, NJ 07675
Phone: 201-722-2950
Camden County
buybuy BABY
1590 Kings Highway North, Cherry Hill, NJ 08034
Phone: 856-354-5162
Essex County
Buybuy Baby
530 West Mount Pleasant Avenue, Livingston, NJ 07039
Phone: 973-422-0431
Harmon Face Values
720 Morris Turnpike, Short Hills, NJ 07078
Phone: 973-921-9250
Harmon Face Values
36 Clinton Road, West Caldwell, NJ 07006
Phone: 973-226-6522
Gloucester County
Harmon Face Values
1755 Deptford Center Road, Deptford, NJ 08096
Phone: 856-401-7990
Buybuy Baby
1745 Deptford Center Road, Deptford, NJ 08096
Phone: 856-228-2498
Middlesex County
Harmon Face Values
300 Route 18 East, East Brunswick, NJ 08816
Phone: 732-613-3129
Harmon Face Values
675 Route 1 South, Suite 2, Iselin, NJ 08830
Phone: 732-404-1370
Buybuy Baby
675 US Highway 1 South, Suite 1, Iselin, NJ 08830
Phone: 732-874-6074
Monmouth County
Harmon Face Values
2145 Highway 35, Holmdel, NJ 07733
Phone: 732-264-6220
Harmon Face Values
357 Route 9 South, Manalapan, NJ 07726
Phone: 732-972-0663
Harmon Face Values
359 Route 34 North, Matawan, NJ 07747
Phone: 732-583-0233
Harmon Face Values
2309-200 Route 66, Ocean, NJ 07712
Phone: 732-493-4551
Harmon Face Values
550 Broad Street - Route 35, Shrewsbury, NJ 07701
Phone: 732-842-1550
Buybuy Baby
310 Route 36, West Long Branch, NJ 07764
Phone: 732-542-1953
Morris County
Harmon Face Values
392 Route 10 West, East Hanover, NJ 07936
Phone: 973-386-1066
Harmon Face Values
977 Valley Road, Gillette, NJ 07933
Phone: 908-991-4364
Harmon Face Values
1711 State Route 10 East, Morris Plains, NJ 07950
Phone: 973-292-6340
Harmon Face Values
275 State Route 10 East, Suite 350, Succasunna, NJ 07876
Phone: 862-284-3026
Ocean County
Harmon Face Values
479 Route 70 East, Suite B, Brick, NJ 08723
Phone: 732-451-9730
Passaic County
Harmon Face Values
390 Route 3 West, Clifton, NJ 07013
Phone: 973-591-9923
Harmon Face Values
465 Route 46 West, Totowa, NJ 07512
Phone: 973-256-6010
Buybuy Baby
545 Route 46 West, Totowa, NJ 07512
Phone: 973-826-1010
Harmon Face Values
1595-1 Route 23 South, Wayne, NJ 07470
Phone: 973-633-1553
Harmon Face Values
580 Valley Road, Wayne, NJ 07470
Phone: 973-628-7337
Somerset County
Buybuy Baby
711 Route 28, Bridgewater, NJ 08807
Phone: 908-725-1501
Harmon Face Values
303 Route 22 East, Green Brook, NJ 08812
Phone: 732-424-0731
Harmon Face Values
300 U.S. Highway 202, Raritan, NJ 08869
Phone: 908-685-9838
Sussex County
Harmon Face Values
100 D Route 23 North, Franklin, NJ 07416
Phone: 973-823-8477
Harmon Face Values
10B Route 206 North, Newton, NJ 07860
Phone: 973-383-4090
Union County
Harmon Face Values
335 South Avenue East, Westfield, NJ 07090
Phone: 908-233-5051
Big companies that survived, and thrived, after bankruptcy
There have been some big name brands that declared bankruptcy and built back, stronger — some with New Jersey ties.
From an automaker to theme park company and mall food court staple, here's at least six successful restructuring stories.
Erin Vogt is a reporter and anchor for New Jersey 101.5. You can reach her at erin.vogt@townsquaremedia.com
Click here to contact an editor about feedback or a correction for this story.
KEEP READING: Here are 50 of your favorite retail chains that no longer exist
LOOK: The most extreme temperatures in the history of every state
Stacker
consulted 2021 data from the
NOAA's State Climate Extremes Committee (SCEC)
to illustrate the hottest and coldest temperatures ever recorded in each state. Each slide also reveals the all-time highest 24-hour precipitation record and all-time highest 24-hour snowfall.
Keep reading to find out individual state records in alphabetical order.
Here's where NJ legal weed is sold
The number of recreational cannabis dispensaries continues to grow, with close to two dozen state approvals given since the first adult recreational sales in the state back in April. Here is where the open sites are located.
LOOK: Things from the year you were born that don't exist anymore
The iconic (and at times silly) toys, technologies, and electronics have been usurped since their grand entrance, either by advances in technology or breakthroughs in common sense.
See how many things on this list
trigger childhood memories—and which ones were here and gone so fast you missed them entirely.
New Jersey's smallest towns by population
New Jersey's least populated municipalities, according to the 2020 Census. This list excludes Pine Valley, which would have been the third-smallest with 21 residents but voted to merge into Pine Hill at the start of 2022.
Rock's 100 Most Underrated Albums
You know that LP that it seems like only you love? Let's talk about those.