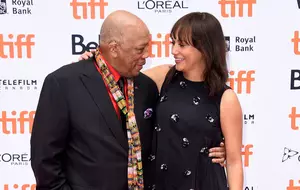 Here's Something You Can Watch This Weekend: Quincy Jones Documentary
Getty Images
If you're looking for something to watch on Movie Night, I recommend the new documentary about  music arranger, composer, and producer Quincy Jones.  The Netflix documentary was made by his actress daughter Rashida Jones ("The Office" and "Parks and Recreation.)  You'll see a lot of her and her siblings in the film which never gets boring.
I enjoyed seeing all the archival footage of Quincy Jones' life and his career which spans six decades.  Did you know that he worked with Frank Sinatra?  The two had a close relationship which inspired Sinatra to fix the racial inequality that existed in Las Vegas casinos.
New Jersey's own Count Basie is mentioned quite often in this film as  is another artist with Jersey roots, Lesley Gore.
I was quite moved by the interview clips that feature Jones talking about Michael Jackson.  Quincy was like a father figure to the King of Pop.  Will Smith, Oprah, Lady Gaga, and Lionel Richie are some of the other celebrities featured in this excellent film.
The documentary covers the health crises Jones has had.  There's footage of him collapsing on stage, video of him in the hospital, etc.  It shows how his body has been impacted by his years of working and playing hard.