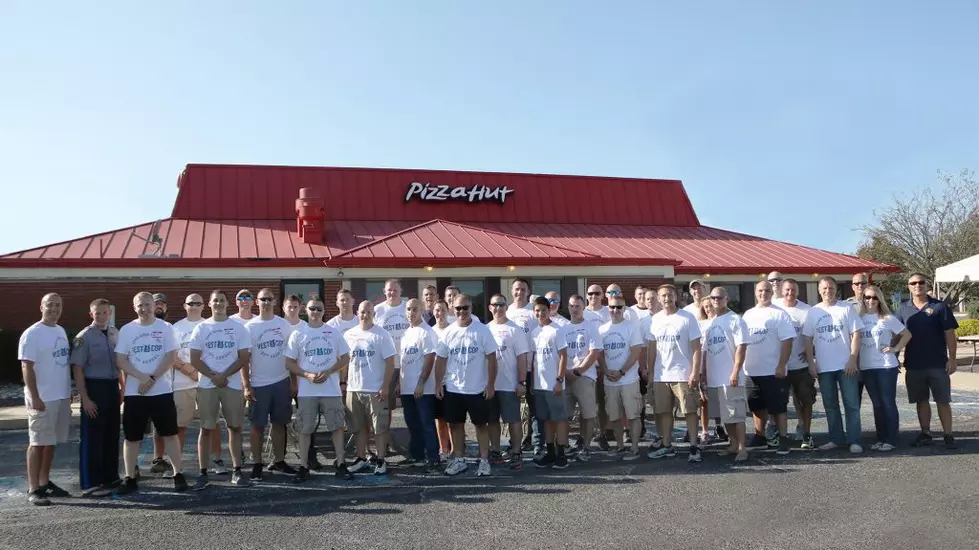 Eat Some Pizza, Help Protect a Cop
Toms River police officers and staff at Pizza Hut in Toms River (Toms River Police)
There's a pretty good chance that you have not made dinner plans for tonight so with that in mind I suggest you consider bringing the family to Pizza Hut in Toms River for the 28th Annual Vest-A-Cop Fundraiser.
Police officers from Toms River will put down their ticket books and put on aprons as waiters and waitresses while joining forces with the staff at Pizza Hut in the K-Mart Shopping Center from 4 p.m. -9 p.m. raise money for the Bullet Proof Vest Fund.
Vests cost about $1,000 each and have to be replaced every five years and the fund helps pay for them and keep Toms River police officers safe.  Tonight members of PBA 137 will serve you dinner while working hard for their tips which of course will go to the fundraising effort.
In addition all donations during the evening will be matched by the Jay and Linda Grunin Foundation up to $20,000.
The annual event will also feature face painting, a dunk tank, bounce house, fire trucks, classic car show, DJ Mike West and more.  The Ocean County Sheriff's Department will also be on site to create ID cards for children.
For those who live in Toms River this is a great way to meet the men and women who help keep you safe while also helping out a great cause.  For more visit trpolice.org.
I feel almost obligated to mention Tiger Woods who on Sunday won his 80th PGA Tour event but first in more than five years when he claimed the season-ending Tour Championship in Atlanta.  I had goose bumps watching Tiger walk down the 18th fairway with thousands of fans behind him in a scene like nothing I had ever watched before.
It looked like something you would see in a movie but this was not Kevin Costner in "Tin Cup" but a 42-year old man whose golf career seemed all but over due to injuries just over a year ago.  Tiger in his signature red shirt on Sunday was back on top where he belongs.