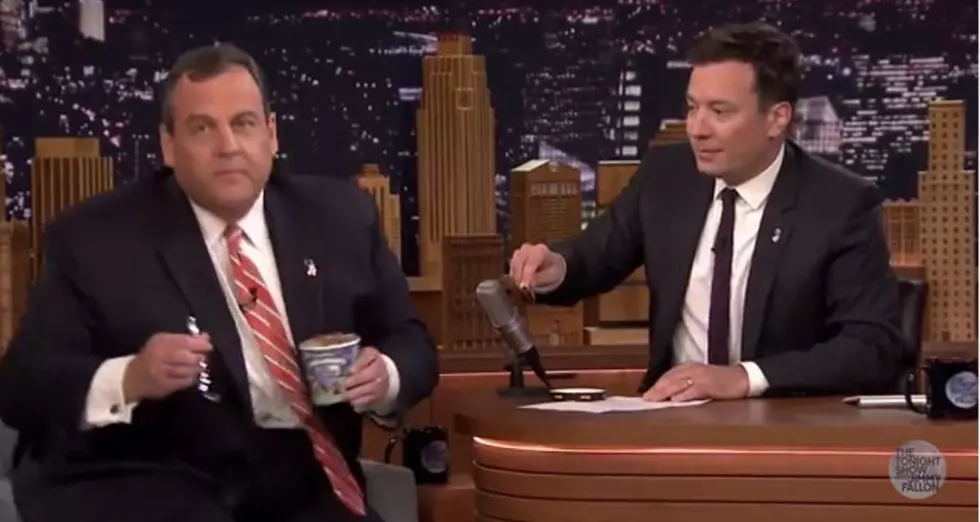 Chris Christie on 'Tonight Show' – I'll announce in May or June
Gov. Chris Christie eats "Tonight Dough" ice cream on the Tonight Show as Jimmy Fallon tries to share (YouTube)
New Jersey Gov. Chris Christie returned to late-night TV on Wednesday and gave perhaps his most specific estimate, to date, of when he might announce he's running for the 2016 Republican presidential nomination.
"I would say May or June, we'll be letting everybody know what we decide," Christie said during his first appearance in 10 months on "The Tonight Show Starring Jimmy Fallon."
On the March edition of Townsquare Media's "Ask the Governor," Christie would only offer a "late spring, early summer" timetable, failing to specify in which exact month he could make an announcement.
Christie demurred -- at least for now -- when asked by Fallon for his opinions on those who have already entered the 2016 race, like Sen. Ted Cruz (R-TX) and former First Lady and Secretary of State Hillary Clinton.
"Listen, if I run? Oh, you'll find out exactly what I think of 'em," Christie said.
In the seven-minute interview, the governor discussed the town hall-style public appearances that he popularized in New Jersey and recently took on the road to New Hampshire.
"I hate politics where people are like programmed robots," Christie said. "They all sound like Charlie Brown's teacher, right? 'Wah, wah, wah, wah, wah.' They all sound the same."
Highlighting his unique delivery and trademark, straightforward responses, Christie corrected Fallon when the host misquoted one of the governor's famed "YouTube moments."
Frequently teased by Fallon about his weight, the governor also sampled Ben & Jerry's custom "Tonight Dough" ice cream flavor on the NBC program Wednesday night, albeit right after Fallon complimented him on his physique.
"Wait a second," the governor said with a smirk. "If I look great, what the hell with all the jokes every night?"
Christie had last appeared on "Tonight" in June 2014, when he and Fallon participated in a skit called "The Evolution of Dad Dancing." That appearance was Christie's first on late-night television following the George Washington Bridge scandal and was widely seen as an attempt by the governor to try to move past the controversy.
The Associated Press contributed to this report.