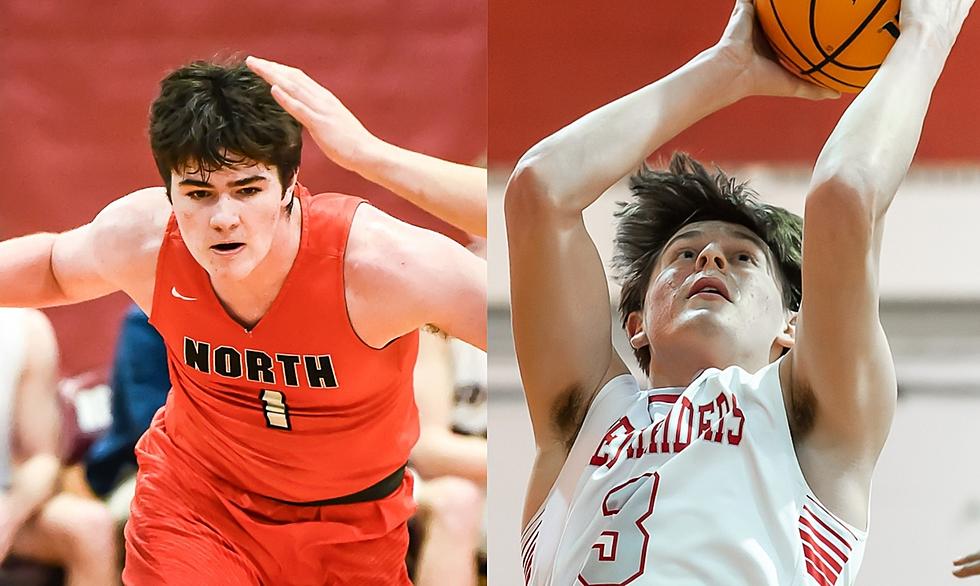 Boys Basketball – All-Shore Final Vote Winners: Matt Kenny (Middletown North) and George Mitchell (Keyport)
Middletown North senior Matt Kenny and Keyport senior George Mitchell. Photos: Tom Smith|tspimages.com
Over the past five days, Shore Sports Network has conducted the All-Shore Final Vote with the purpose of naming the final two members of the 2021-22 All-Shore Team. The SSN readers rallied to support all 30 nominees, with four of the 30 advancing to the final round beginning Sunday night.
The final round is now complete, which means it's time to meet the two players who will join the initial 18 honorees on the 2021-22 Shore Sports Network Boys Basketball All-Shore Team.
2022 Boys Basketball All-Shore Final Vote Winners
Matt Kenny, Sr., 6-0, Guard, Middletown North
Key Stats: 14.6 points, 5.0 rebounds, 1.8 assists, 60 three-pointers
A four-year varsity player at Middletown North, Kenny was one of the Shore's top three-point marksman in 2021-22 and it carried him to a 14.6 points-per-game average that ranked him 19th in the conference for the season. He hit the 20-point threshold in three different games and his season-high of 22 points came in Middletown North's only win of the season over a ranked opponent – an early-January win over Brick Memorial. Middletown South had a rough finish to the season in losing eight of its last nine games, but Kenny's scoring (15.1 points per game) stayed steady during that stretch.
George Mitchell, Sr., 6-5, Forward, Keyport
Key Stats: 15.2 points, 8.2 rebounds, 4.4 assists, 1.8 steals, 0.96 blocks, 79% free-throw
While D.J. Thomson led the team in scoring and grabbed the most headlines of any player on Keyport's best team in 18 years, Mitchell was a do-it-all big man who presented a difficult matchup for opponents. The 6-foot-5 senior was one of only two players in the Shore Conference, along with Point Pleasant Beach junior Kevin Burns, to finish top 20 at the Shore in points, rebounds and assists per game and Mitchell was the only player to average at least eight rebounds and four assists. Mitchell closed his senior season with a brilliant four-game stretch in the NJSIAA Group I Tournament, averaging 20.75 points, 10 rebounds, 6.25 assists and 1.5 blocks. He flirted with a triple double in wins over Manville (29 points, nine rebounds, seven assists) and New Egypt (16 points, 11 rebounds, eight assists) and closed out his career with 21 points, 11 rebounds and five assists in nearly leading Keyport to an improbable comeback at Burlington City.
Voting Results
Final Round
| | | |
| --- | --- | --- |
| Player | Votes | Vote % |
| Matt Kenny, Midd North | 465 | 37.68 |
| George Mitchell, Keyport | 355 | 28.77 |
| Brian Starrett, Brick Mem | 275 | 22.29 |
| Ta'haj Wiggins, Monmouth | 139 | 11.26 |
First Round (North Section)
| | | |
| --- | --- | --- |
| Player | Votes | Vote% |
| George Mitchell, Keyport | 298 | 17.72 |
| Matt Kenny, Midd North | 256 | 15.22 |
| Nick Valentino, Red Bank | 251 | 14.92 |
| Dylan Csik, Midd South | 179 | 10.64 |
| Jay Ratner, Marlboro | 140 | 8.32 |
First Round (South Section)
| | | |
| --- | --- | --- |
| Player | Votes | Vote% |
| Brian Starrett, Brick Mem | 233 | 14.82 |
| Ta'haj Wiggins, Monmouth | 190 | 12.09 |
| Kevin Burns, Pt Beach | 181 | 11.51 |
| Josh Michigan, Brick Mem | 154 | 9.8 |
| Luke Farrell, St. Rose | 149 | 9.48 |