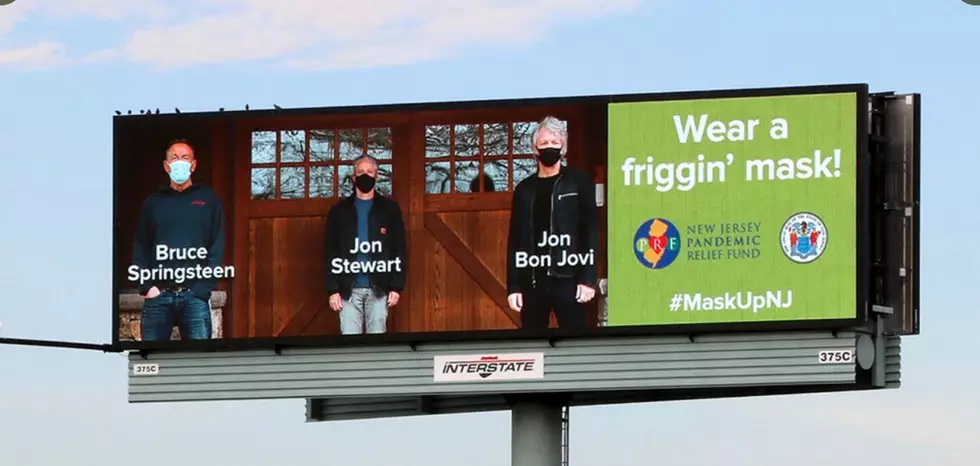 Bon Jovi, Bruce, Jon Stewart Team Up To Send Jersey A Very Jersey Message
@FirstladyNJ via Twitter
As the COVID-19 coronavirus pandemic heads into its 9th month amid new spikes in cases across the country, with New Jersey being no exception, a trio of Jersey celebrities got together to send New Jersey a message in just about the most Jersey way possible.
Well, at least while still keeping it appropriate for a public billboard.
On Wednesday afternoon, Tammy Murphy, New Jersey's first lady, Tweeted out a photo of a new billboard that brings Bruce Springsteen, Jon Bon Jovi, and Jon Stewart together to get a simple message out:
The Wednesday afternoon Tweet says that the most Jersey public health campaign ever is a project that brought together Bruce, JBJ, and Jon Stewart, along with the New Jersey Department of Health and the New Jersey Pandemic Relief Fund.
This actually isn't the first time that the trio came together to work with the NJ Pandemic Relief Fund, you might remember that all three also took part in the JERSEY4JERSEY virtual benefit back in April.
Mrs. Murphy's Tweet didn't specify where the billboard will be able to be seen in New Jersey, but the example appears to be a digital billboard that would rotate the message among others.
The announcement of the campaign comes in a week that's already seen New Jersey report nearly 8,000 new COVID-19 cases and 60 deaths since this past Monday alone.
You can click here for more from the New Jersey Pandemic Relief Fund, and you can get the latest COVID-19 information from the New Jersey Department of Health by clicking here.
Enter your number to get our free mobile app
How to Make a No-Sew Face Mask From Leggings