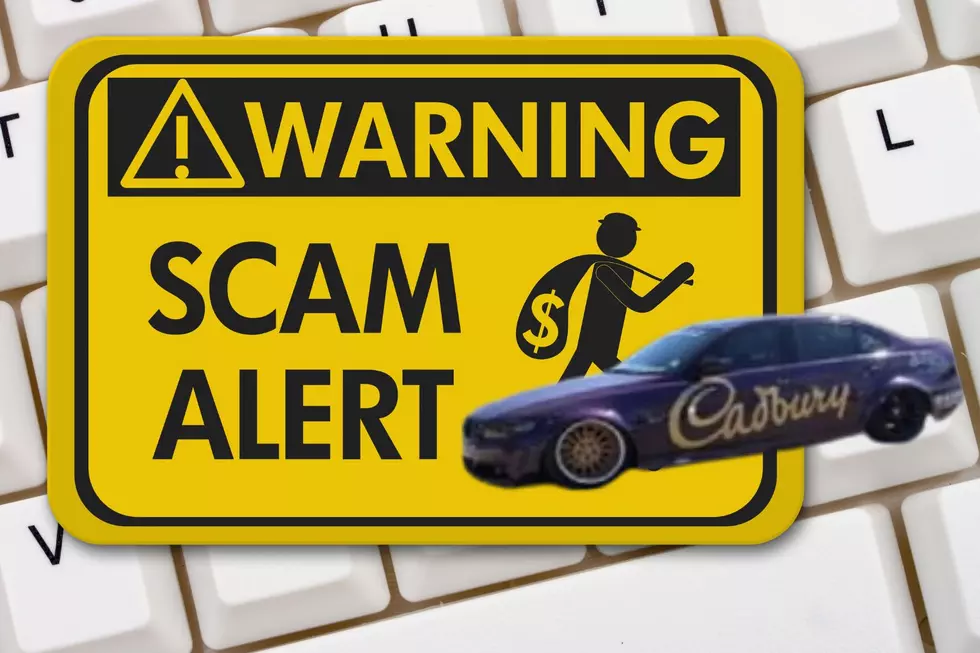 Beware – Candy scam targets NJ college Students
Screenshot/Canva/Townsquare Media illustration
💲💲 Scam targets college students in New Jersey - promising easy money
🔴 FTC warns about sharp rise in these types of crimes
🔴 Tips to avoid being the next victim
---
What a great deal. Especially for New Jersey college kids who may be struggling to make ends meet.
Cadbury Chocolate will pay you $600 per week if you just drive around with you car wrapped in the Cadbury logo.
Except they won't. It's a scam.
Police in Washington Township, Gloucester County, are warning college students in the areas have been targeted by this scam.
How the scam works
A message is sent via text. It claims Cadbury will pay $600 for the promotion. All you do is drive your normal route, "no mileage is required."
It even goes on to say the decals used to wrap the car won't damage the paint.
"Kindly provide the following information," the text reads, then asks for personal information including a phone number.
"If you message the number back, scammers will send you a fake check to deposit into your bank account," reads a notice on the Washington Township Police Facebook page. "Then they'll say to use some of that money to pay their 'decal agent' to put the ads on your car."
That's the heart of the scam
Police say they will "tell you to pay by money order, Walmart money services, or by making a cash deposit directly into the 'decal agent's' bank account.
Since the check they send you is fake, anything that comes out of your bank account is your money.
"The Federal Trade Commission reports that the deposited check is fake which means the money you sent is coming out of your own pocket," police say.
Cadbury scams are not new
Unfortunately, this is not a new scam.
Police in Indiana were warning of this scam in April of 2022.
A similar scam was reported around the same time with text messages promising "FREE Easter Chocolate Basket."
"If something sounds too good to be true, it probably is," police warned.
Scam Epidemic
The Federal Trade Commission is warning about an alarming number of scams and the sophistication of scammers.
In many cases, the scams seem completely benign.
They often masquerade as customer service questionnaires or quizzes.
The intention is to gather personal information that might be used to breach your financial accounts. The FTC warns: Before you take a quiz to find out which Marvel character you are, ask yourself: Do I know who's gathering this information about me — or what they plan to do with it?
If you suspect that an online quiz is a phishing scam, you can report it - or any type of fraud - to the FTC at ReportFraud.ftc.gov.
Eric Scott is the senior political director and anchor for New Jersey 101.5. You can reach him at eric.scott@townsquaremedia.com
Click here to contact an editor about feedback or a correction for this story.
Nasty NJ town nicknames — Have you heard of them?
Dennis & Judi asked their listeners for the nasty nicknames they've heard their towns referred to. How many have you heard? Which ones would you add?

[carbongallery id="6183d9a9a2ff9b4ff4987858"]
9 of the nation's most miserable cities are in New Jersey