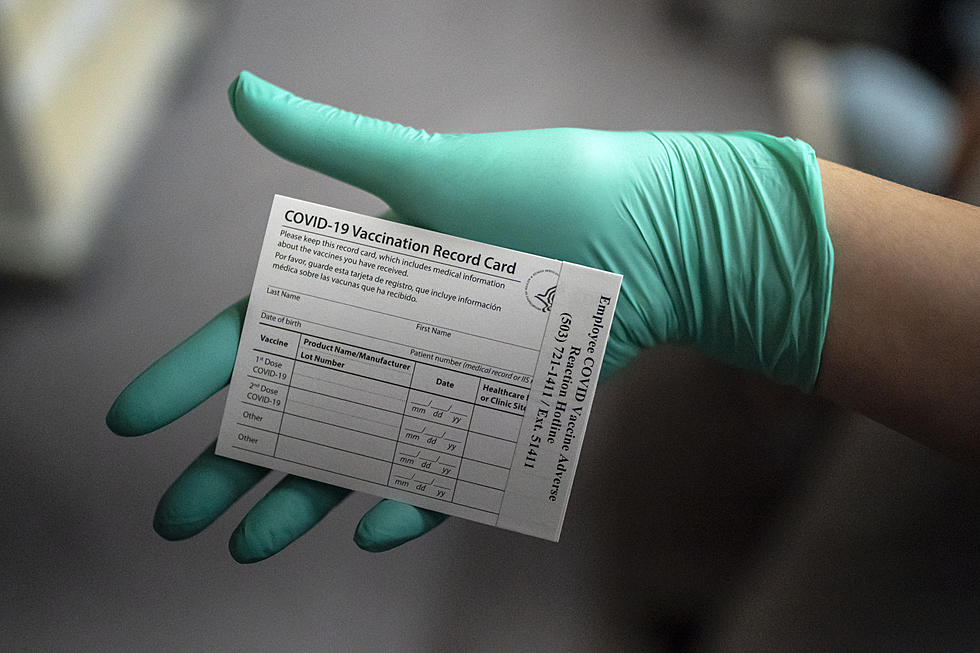 Bayonne, NJ Pharmacist shut down for selling phony Covid-19 vaccine cards
Photo by Nathan Howard/Getty Images
A Bayonne (Hudson County) based pharmacist has been temporarily suspended and her practice shut down after investigators learned she was doling out fake Covid-19 vaccine cards and falsifying records.
Christina Bekhit was arrested and charged with second-degree Computer Criminal Activity, third-degree Tampering with Public Information, and fourth-degree Falsification of Records Relating to Medical Care for falsifying Covid-19 vaccination record cards and fraudulently reporting that vaccines were administered to a state-managed registry, according to Acting New Jersey Attorney General Matthew J. Platkin and the Division of Consumer Affairs.
Acting AG Platkin said that the owner of AllCare Pharmacy agreed to the temporary suspension of her pharmacy license pending the outcome of the charges and further action by the Board.
Bekhit was ordered and has chosen following that request to discontinue her pharmacy business or sell AllCare Pharmacy by August 29, 2022, and surrender her Board-issued permit to operate the pharmacy, Acting AG Platkin said.
She allegedly sold falsified COVID-19 vaccination record cards to undercover investigators -- including a Bayonne Police Officer in January of 2022 -- for $250 apiece on three reported occasions including one time when the investigator reportedly told her that the job required her to be vaccinated.
Acting AG Platkin said that the undercover officer was allegedly asked if he "really wanted to take the vaccine" and when his response was no, Bekhit is accused of trying to sell him a vaccine card that would include the dates and would be put in to the NJIIS database and also allegedly told the undercover officer "if anyone you know wants a vaccine card, bring them to me."
"Forging vaccination cards and entering false information into the State's vaccination database is a crime that creates a grave public health risk," Acting Attorney General Platkin said in a written statement. "With the spread of COVID-19 still a significant threat to New Jerseyans, the alleged conduct of this licensee is beyond reckless. The Pharmacy Board acted appropriately in removing her from practice while these criminal charges are pending."
"It's hard to believe that a health care provider would use her professional license to ­circumvent vaccination requirements in place to stop the spread of a deadly virus," Cari Fais, Acting Director of the Division of Consumer Affairs, said in a written statement. "These allegations, if proven, raise serious questions about her professional judgment and fitness to practice. I commend the Board for intervening to protect the public until the matter gets resolved."
New Jersey's Missing Children
First Responders Appreciation
Here are New Jersey's Most Wanted Criminals