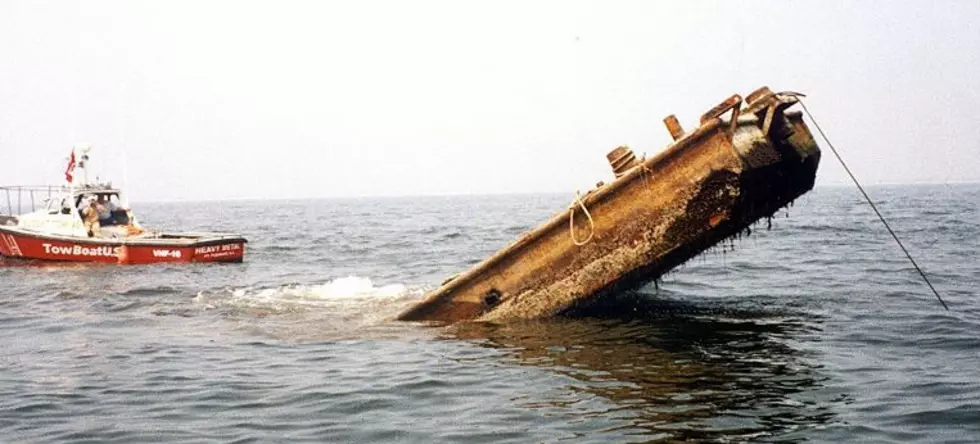 Army Corps okays Manasquan Inlet artificial reef – environmental group sounds warning
Artificial Reef (NJ Dept. Environmental Protection)
Longstanding plans for the next in a series of artifical reefs of the Jersey coast show signs of life with a permit from the U.S. Army Corps of Engineers. Almost immediately, the New Jersey Sierra Club sounded a warning about the risk of over-fishing.
DEP describes them as methods to expand fishing opportunities, and a step in a reef-access compromise between the Christie Administration and fishing groups that allows the state to obtain federal funds.
The reefs, normally scuttled barges and boats, along with rocks, concrete and other materials, are funded by excise taxes on sport fishing gear and boat fuel. Recreational fishing generates $1,500,000,000 annually for the state's economy, and employs a job base of about 20,000, DEP says.
Mussels, barnacles, sea stars, blue crabs, sea fans and algae quickly populate the reefs, according to DEP studies of the reefs already in place - two in state waters, 13 in federal waters. The organisms lure small fish, which attract black sea bass, tautog, fluke, scup, lobster and other popular species.
The U.S. Fish and Wildlife Service stopped the revenue flow amid concerns that commercial fishing operations threatened access by recerational anglers, then resumed it following the agreement that gives commercial interests access while adding another reef in state waters, up to three miles out.
"We are very excited to move forward with this expansion of the state's network of artificial reefs, which create important habitat for many types of marine life," DEP Commissioner Bob Martin said.
"By enhancing recreational fishing and diving opportunities, these reefs help boost the state's tourism economy. We are particularly pleased with the opportunity to develop Delaware Bay's first reef site, which will help bolster tourism in that region."
DEP officials said that the Manasquan Inlet spot is 1.7 nautical miles southeast of the inlet, north of Point Pleasant Beach, and is expected to take up about a square mile of sea floor, between 67 and 74 feet below the surface.
The Delaware Bay Reef is designated to be about a square mile in dimensions, 9.2 nautical miles southwest of the mouth of the Maurice River in Cumberland County, from 23 to 35 feet down.
Sierra Club: Is the homework done?
New Jersey Sierra Club DirectorJeff Tittel casts doubt whether DEP is "looking at science." The organization describes the Manasquan Inlet project as a 68-foot trawler already sunk, and a 115-foot surf clam boat to be sunk off Wildwood, with no mention of Delaware Bay, paid through a $119,250 federal Fish and Wildlife grant.
Tittel, in prepared comments, said that the group does not oppose artificial reefs, but believes that attracting fish species for sport and business promotes eventual depletion.
"These metals should be recycled, but instead DEP is experimenting with our oceans," Tittel said. "These reefs are more about giving away our oceans to fisherman, which could attract more fish and will lead to more fishing. We are concerned that with Trump's plans to drill for oil off our coast there could be oil wells on top of fisheries, further harming our environment."
Tittel claimed that over-fishing is already occurring in New Jersey, saying that disruption of shallows through beach restoration upends breeding spots and sends more undersea life to the reefs. He also contended that species are migrating as oceans warm, and incoming types have yet to be studied to determine if the reefs are suitable.