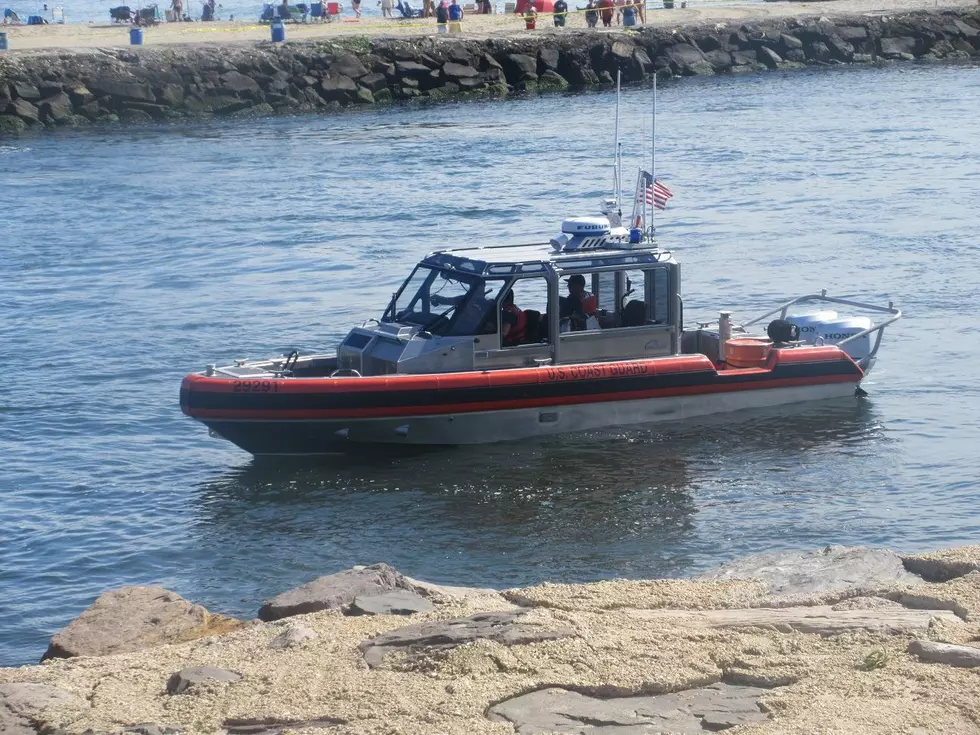 Amount of boating accidents, deaths nationwide go up in new U.S. Coast Guard report
Coast Guard boat (Bud McCormick)
It's the summer and riding on a boat can be fun but doing so also has to be safe and even more so moving forward.
The number of accidents and deaths on boats in the water have gone up, according to a new Recreational Boating Statistics Report for 2020 out Wednesday by the U.S. Coast Guard.
Listen to Vin Ebenau mornings on Townsquare Media Jersey Shore Radio Stations, email him news tips here, and download our free app.
There were 767 boating accidents that resulted in fatalities in 2020 nationwide which is a 25.1-percent increase from 2019, while the number of accidents overall rose 26.3-percent from 4,168 to 5,265 and the amount of non-fatal injured victims went up 24.7-percent from 2,559 to 3,191.
New Jersey specifically in 2020 accounted for 135 total accidents (about a 1.2-percent increase from 2019) of the 5,265 nationwide as well as 9 fatalities, 53 non-fatal injuries and 73 resulted in property damage worth approximately $1,548,388.00.
The amount of boating accidents overall in New Jersey has marginally but still gone up over the last few years as well.
In 2016 there were 109 accidents, 2017 there were 106, 2018 there were 116, 2019 there were 110 and in 2020 there were 135.
The amount of fatal accidents have remained under 10 during the same time span going from 4 to 4 to 5 to 4 to 9 by 2020 with deaths going from 5 to 4 to 5 to 4 to 9.
Of the 135 accidents in New Jersey, 4 boats capsized, 8 had a collision with a fixed object, 1 collision with a floating object, 1 collision with a governmental vessel, 53 collisions with a recreational vessel, 5 collisions with a submerged object, 3 departed vessels, 12 incidents where someone was thrown from the boat, 3 incidents involving someone falling in vessel, 3 incidents where someone fell overboard, 7 fires/explosions with fuel/non-fuel, 19 involving a boat flooding/swamping and 11 from grounding.
This is from 133,463 registered water-crafts in New Jersey in 2020.
Overall, the U.S. Coast Guard saw boating activity nationwide go up during the pandemic.
They also discovered that alcohol was "the leading known contributing factor in fatal boating accidents in 2020, accounting for over 100 deaths, or 18 percent of total fatalities."
Nationwide in 2020, the U.S. Coast Guard compiled some troubling data:
The fatality rate was 6.5 deaths per 100,000 registered recreational vessels, the highest in the program's recent history. This rate represents a 25 percent increase from last year's fatality rate of 5.2 deaths per 100,000 registered recreational vessels.
Property damage totaled about $62.5 million.
Operator inattention, operator inexperience, improper lookout, excessive speed, and machinery failure ranked as the top five primary contributing factors in accidents.
Bottomline, take all health and safety steps necessary to enjoy your time on the boats and not become a statistic.
"It's crucial for boaters to wear a life jacket at all times because it very likely will save your life if you enter the water unexpectedly," Captain Scott Johnson, chief of the Office of Auxiliary and Boating Safety at Coast Guard Headquarters, said in a statement.  "The Coast Guard reminds boaters to make sure that life jackets are serviceable, properly sized, and correctly fastened. The Coast Guard thanks our boating safety partners, they continue to demonstrate a committed effort to reduce loss of life, injuries and property damage through education and enforcement."
Trending News Now
Top Trending News stories at the Jersey Shore.
Toms River Trending News
Asbury Park Trending News
Lakewood Trending News
Brick Trending News
Jackson Trending News