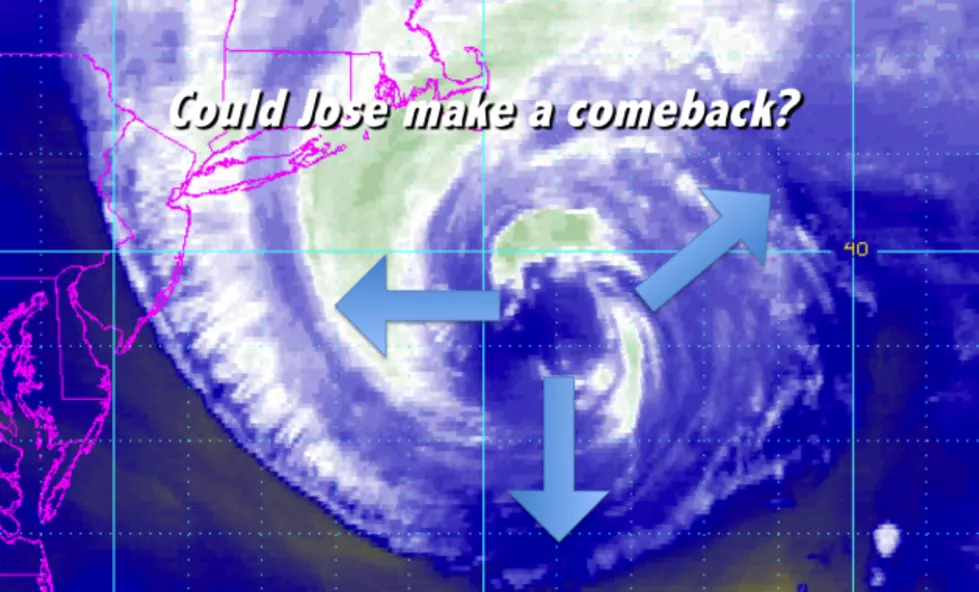 92.7 WOBM News Flash Briefing: September 20
Courtesy NOAA-NHC
https://jerseyshorepodcasts.townsquaredigital.com/WOBMFM201709201800.mp3
An offshore storm update from Townsquare Meteorologist Dan Zarrow keeps hurricane-trackers on edge. Hurricane Jose is stalled 250 miles off the Atlantic City coast, keeping coastal flood warnings in effect for the next several high tides. Jose has three possible escape routes as Hurricane Maria runs up behind, and one is in our direction. See his analysis here.
Unfathomable tragedy unfolds on the New Jersey Turnpike in Hightstown. A five-year-old girl died today after being catapulted from her mother's disabled car, that burst into flames after being rear-ended by a tractor-trailer. Flames engulfed the car, the big rig and a third car.
Three years in prison await a former New Jersey treasury investigator from Willingboro who pleaded guilty to a theft charge today. Stephanie Hargove admitted pocketing some of about $75,000 in false claims that she approved in the names of family members and friends in a five-year period.
A Georgia law firm spearheads a class action suit against Equifax on behalf of small business owners nationwide. Doss Firm LLC contends that the credit reporting agency's security breach potentially impacts some 28,000,000 business operators. In New Jersey, state Senate President Steve Sweeney is considering legislation to prevent credit reporting services from charging fees for lifting credit freezes requested by consumers.
He's Trooper Trump, not just the President. New Jersey State Police gave him honorary trooper status for his support of law enforcement and his advocacy for returning Joanne Chesimard from Cuba to New Jersey - which she fled in 1978 after breaking out of prison, while serving time for the murder of State Trooper Werner Foerster on the Turnpike three years earlier.
Contrary to earlier statements, Toys R Us does plan to shutter poorly-performing stores and downsize others as part of its Chapter 11 bankruptcy plan. The New Jersey-based retailer has not specified which stores will be closed.
A beloved children's entertainer from Hillsborough risks five to 20 years in prison if he's convicted of possessing and distributing child pornography. Eric Komar reportedly told federal agents that he frequents the images nearly every day for personal pleasure.
A trucker leaves Atlantic City with a fistful of...traffic tickets, after driving his semi more than two miles along the AC and Ventnor boardwalks. Sections of railing required removal to let the big rig back onto actual streets.