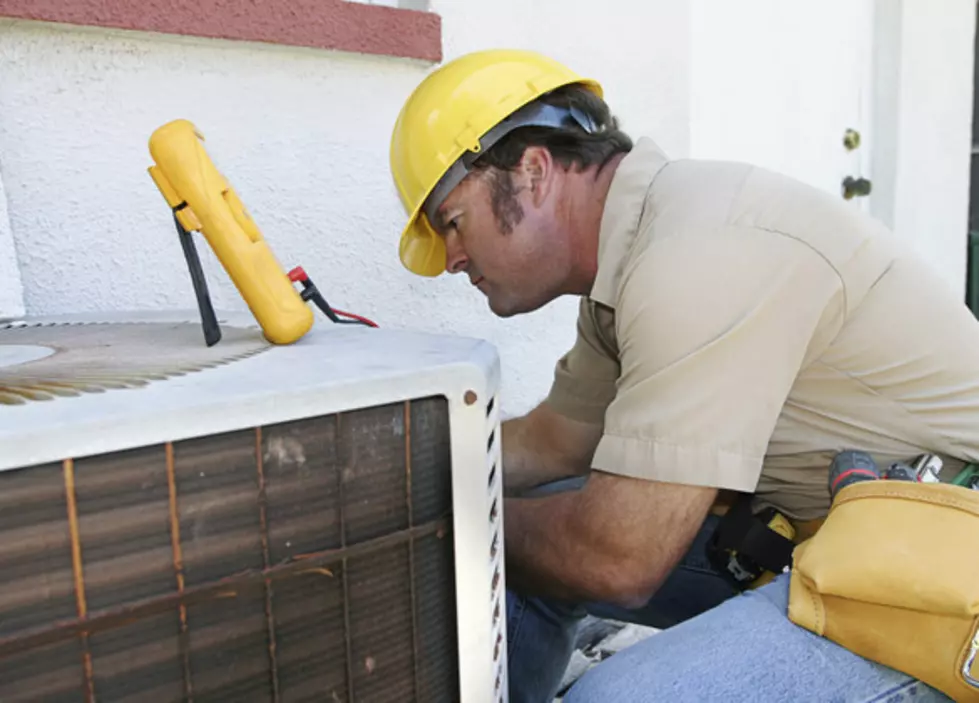 These NJ building contractors were cited for $1M in fines and restitution
Thinkstock
NEWARK — They walked out on jobs, didn't bother showing up at all, or left behind shoddy work, officials say. Now they're paying the price.
More than 100 contractors throughout the state last year were fined for ripping off homeowners, including victims of Hurricane Sandy, state Attorney General Christopher S. Porrino and the Department of Community Affairs announced Wednesday.
The 136 notices will mean penalties totaling $483,360 and restitution of $1.42 million. In addition to the citations, the state's Division of Consumer Affairs is suing contractors in Ocean and Atlantic counties over work related to Superstorm Sandy repairs.
"It is unacceptable that certain unscrupulous contractors are violating state law and not doing the work that they promised consumers, especially those still recovering from Superstorm Sandy," Porrino said. "Whether through the Superior Court or through Notices of Violations, contractors who break the law will continue to be held accountable."
Contractors in 19 of the state's 21 counties were cited with 17 coming from Camden County, which was the highest in the state. Atlantic, Burlington, Essex, Morris, and Union counties also had at least 10 citations issued. Only Mercer and Warren counties did not have reported violations, with 11 more sent to out-of-state contractors.
See the list below.
The violations ranged from $1,000 to $7,000, with restitution amounts of as low as $250 to as high as $134,093.
Nearly half of the violations were for working as an unregistered practice, with 48 resolving their citations through a consent order, 28 defaulting, and four having paid the penalties they were assessed. There are still 55 of the cases pending.
The complaints filed in the Superior Court in Ocean and Atlantic Counties "allege the contractors engaged in various unconscionable consumer practices that included taking money from consumers to repair, rebuild, and/or elevate storm-damaged homes and then failing to begin work, performing the work in a substandard manner, and/or abandoning unfinished projects without returning for weeks, months, or at all," officials said Wednesday in a prepared statement.
Some of the cases stem from instances where contractors were paid through funds from relief grants received from the RREM program, which was described as "the states' largest rebuilding initiative," and is managed by the Department of Community Affairs. In other cases the alleged victims lost money from the Landlord Rental Repair Program, which was also geared toward repair work after the storm for rental properties.
Steve Lee, the director of the Division of Consumer Affairs said, "We urge consumers who feel they have been the victims of fraud or other violations of law by contractors to report these actions to the Division immediately."
The Division of Consumer Affairs can be contacted by calling 1-800-242-5846 or through their website.
Fines and restitution levied against contractors
| | | |
| --- | --- | --- |
| Company Name | County | Total |
| John Hand Home Restoration LLC | Atlantic | $34,723 |
| Island Roofing | Atlantic | $3,800 |
| Davis Brothers Masonry & Chimney Sweep LLC | Atlantic | $5,725 |
| PDM Construction | Atlantic | $2,493 |
| Blevin Construction LLC | Atlantic | $1,750 |
| Michael J. Bell t/a Eastern Exteriors | Atlantic | $3,445 |
| Jason Burk t/a J Burk Construction | Atlantic | $8,750 |
| James Justo t/a Justo's Drain Cleaning & Repair Services | Atlantic | $25,550 |
| Trimor Construction | Atlantic | $13,220 |
| Madera & Sons LLC | Atlantic | $13,750 |
| Total Mechanical Solutions Limited Liability Company | Bergen | $7,034 |
| Epicus Construction, LLC | Bergen | $7,250 |
| Dun-Well Inc. | Bergen | $38,445 |
| Just Paint It | Bergen | $12,750 |
| Salera Contracting LLC | Burlington | $4,000 |
| B&L Home Remodeling | Burlington | $4,584 |
| Euro Remodeling, and Euro Roofing & Siding | Burlington | $8,050 |
| Easy Way Construction Limited Liability Company | Burlington | $12,709 |
| Optimal Energy Inc. | Burlington | $41,785 |
| Spirit Builders Limited Liability Company | Burlington | $8,250 |
| CMB General Contractors, Inc. | Burlington | $3,250 |
| Delaware Valley Designs Limited Liability Company | Burlington | $4,350 |
| C.S. Wilson Roofing | Burlington | $4,890 |
| LB Pools, Inc. aka SwimmingPools Now | Burlington | $43,144 |
| Villano and Sons Concrete Limited Liability Company | Burlington | $8,950 |
| A R C Roofing & Siding | Camden | $20,900 |
| Detail Builders | Camden | $5,155 |
| 3 A's Construction LLC | Camden | $9,200 |
| Pryor Home Improvements LLC | Camden | $6,525 |
| F & N Residential & Construction Remodeling LLC | Camden | $9,250 |
| Rose City Paving and Construction LLC | Camden | $12,050 |
| Jon Steven Pliskin t/a Creative Home Solutions | Camden | $21,788 |
| Alpha General Property Maintenance, Limited Liability Company | Camden | $3,200 |
| CW of Del Valley LLC | Camden | $3,987 |
| The Tree Pro's | Camden | $7,250 |
| The Godfather of Concrete | Camden | $17,654 |
| Walter Martinez t/a CEF Stucco | Camden | $23,100 |
| Tany's General Contracting LLC | Camden | $4,750 |
| House and Home Remodeling Group | Camden | $6,000 |
| Baker Window Repair | Camden | $40,250 |
| Bill Howard & Son LLC | Camden | $6,950 |
| Glenn James Calderbank t/a Calderbank's | Camden | $5,250 |
| Reynolds Masonry Contractors Limited Liability Company | Cape May | $4,350 |
| Adler Aluminum & Glass Co | Essex | $5,256 |
| Clear Vision Cleaning LLC / Evell D. Adams | Essex | $10,400 |
| Carpet & Home Improvement LLC | Essex | $13,363 |
| Dennis Mosley Roofing & Construction | Essex | $7,600 |
| HGS Interiors | Essex | $40,627 |
| Tommys Construction | Essex | $14,475 |
| Start 2 Finish Home Repair LLC | Essex | $23,700 |
| Cuhna Construction | Essex | $6,500 |
| Malcolm Construction | Essex | $5,600 |
| Final Touch LLC and Leandro F. Cunha | Essex | $9,450 |
| CTG Construction Corporation | Essex | $4,350 |
| Koji Ozawa t/a KYS Construction | Essex | $1,750 |
| Moises Monroy t/a El Don Landscaping | Essex | $1,750 |
| Siloe General Construction | Essex | $8,832 |
| NJJ Construction | Essex | $13,350 |
| Cocchi Remodeling LLC | Gloucester | $13,885 |
| All Crete Const | Gloucester | $2,000 |
| V.F.C. Construction & Development LLC | Hudson | $7,050 |
| Capra Builders/Developers Corp | Hudson | $5,375 |
| F.F. Construction Limited Liability Company | Hudson | $36,442 |
| New Imagery Renovation L.L.C. | Hudson | $15,500 |
| Andrew Garrett t/a Stonevale Landscape & Nursery | Hunterdon | $2,500 |
| Rutgers Landscape Design | Hunterdon | $136,843 |
| Precision Contracting & Landscaping, LLC | Hunterdon | $10,450 |
| Orlando Aguirre | Middlesex | $21,550 |
| Michael Purcell t/a Drivestone Construction | Middlesex | $3,600 |
| Attila Lako t/a Artistic Painting | Middlesex | $5,400 |
| Peter R. Minchella t/a Peter the Painter | Monmouth | $11,377 |
| David Pagella | Monmouth | $19,400 |
| Exquisite Landscape Contractors, Inc | Monmouth | $53,250 |
| Richard Flecker t/a Affordably Perfect Kitchens | Monmouth | $6,256 |
| Driveway Innovation | Monmouth | $4,025 |
| World Of Stone Of Manalapan LLC | Monmouth | $39,005 |
| Let John Do It General Contracting, Inc. | Monmouth | $10,450 |
| PH Construction, LLC | Monmouth | $4,515 |
| CCM Construction Limited Liability Company | Morris | $7,315 |
| Dominick Stanko t/a Platinum Paving | Morris | $5,200 |
| Finish Line Roofing & Landscaping Contracting Limited Liability Company | Morris | $9,050 |
| Michael Keiser Painting & Wallpaper | Morris | $12,750 |
| A & A Drywall & Construction | Morris | $30,320 |
| Joel Misasi t/a J.M. Paving | Morris | $5,000 |
| Champion-Paving | Morris | $15,000 |
| BP Design LLC | Morris | $10,350 |
| Tony Grenevich Mason Contractor | Morris | $6,750 |
| Action Paving, L.L.C. | Morris | $5,950 |
| Powerhouse Contractor Corp | Morris | $7,350 |
| A and J Fireplaces, LLC | Morris | $7,000 |
| Scott J Greene t/a Greene Excavating Contractors | Morris | $7,150 |
| Spectrum Construction and Development Company, Inc. | Morris | $27,738 |
| Panciello Construction Limited Liability Company | Morris | $6,750 |
| L. Benaquist And Son, Construction Co., Inc. | Morris | $12,900 |
| Nighthawk Contracting Limited Liability Company | Ocean | $6,250 |
| Alpine Building LLP | Ocean | $46,087 |
| Douglass I. Coltenback t/a Christ Contractor | Ocean | $6,500 |
| Ace Home Services, Inc. | Ocean | $1,000 |
| K Logan Construction & J DellaPietro Sr Builders Limited Liability Company | Out of State | $1,000 |
| JC Home Care Center Inc | Out of State | $1,500 |
| Global Loss Solutions Limited Liability Company | Out of State | $26,905 |
| Edward Leprie d/b/a E. Leprie | Out of State | $8,750 |
| Kokobo Greenscapes | Out of State | $12,200 |
| Mariano & Martinez Inc. | Out of State | $2,500 |
| Canco Renovators & Remodelers | Out of State | $2,500 |
| Seasonal Emporium | Out of State | $2,500 |
| Global Industries | Out of State | $13,558 |
| Scheer Kitchen Renovations Inc | Out of State | $20,449 |
| All Pool Service Company | Out of State | $11,200 |
| Expertise Restoration, LLC | Passaic | $4,680 |
| European Design LLC | Passaic | $5,010 |
| Louis E. Scholl, III t/a Daytona Construction | Salem | $10,000 |
| Robert D. Fisher, Jr. | Salem | $5,840 |
| Rooftech Mechanical Contractors Limited Liability Company | Salem | $44,820 |
| Mike Bianco & Sons Concrete Contractors | Salem | $36,650 |
| Allen Ridgway t/a Ridgway Chimney Service | Salem | $38,750 |
| Cisco Construction, L.L.C. | Somerset | $5,025 |
| Otto Barrios t/a Otto's Painting & Contractor | Somerset | $21,800 |
| Russell A. Morris Jr. t/a General Jersey Paving & Masonry | Somerset | $5,000 |
| Brien Deegan Contracting, Inc. | Somerset | $7,250 |
| JT's Lawn & Landscaping, Inc. | Somerset | $18,750 |
| Cedillo Carpet Incorporated | Somerset | $35,500 |
| Laurence Purcell t/a Bentley Paving and Masonry | Somerset | $17,150 |
| Westview Site Contracting, LLC | Sussex | $11,500 |
| Jeffrey Edwards LLC | Sussex | $19,500 |
| Allpro Contractor Limited Liability Company | Union | $30,534 |
| Guerreiro's Trucking Inc | Union | $2,250 |
| DM Fernandes Contracts Limited Liability Company | Union | $19,488 |
| Anthony Mitlo t/a A. Mitlo Roofing | Union | $16,500 |
| Mark of Excellence Remodeling, Inc. | Union | $7,450 |
| Pedro Pertuz t/a Academy Garage Door | Union | $5,250 |
| Paul J. Scappetto Remodeling Plumbing & Heating, LLC | Union | $18,150 |
| Lawson's Mason Company | Union | $49,592 |
| Karl Neita | Union | $5,250 |
| Wallace Construction & Designs | Union | $5,500 |
| Peter Smith t/a Garden City Roofing | Union | $12,500 |
| Total | | $1,905,288 |
More From New Jersey 101.5
Contact reporter Adam Hochron at 609-359-5326 or Adam.Hochron@townsquaremedia.com