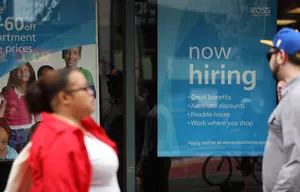 Small businesses say hiring is a challenge these days
(Photo by Justin Sullivan/Getty Images)
A new Wells Fargo survey finds small business optimism running very high so far this year. But many small businesses say their biggest challenge is hiring.
About 1 in 3 small businesses say they will do hiring in the next year. Wells Fargo Senior Vice President Chantal Capodicasa says, "It is a great time to be a job seeker, and they are definitely looking for qualified people. so there is a lot of optimism out there."
But Capodicasa says a lot of small business people struggle to find good hires, especially drivers and skilled tradespeople, among others.
"We see the health care industry having a rising demand for nurse/practitioners and physicians. So you see practices either consolidating or multi-specialty practices are growing in order to be a little bit more efficient or competitive with the decreasing reimbursement rates."
Plumbing and electrical trades, which require special schooling, also have a high demand.
She says the new influx of recent grads will deepen that hiring pool.
"It is graduation time and a great time to be looking for positions. And some of the growing demand in New Jersey particularly is around distribution and transportation positions that are becoming available."
Joe Cutter is the afternoon news anchor on New Jersey 101.5.