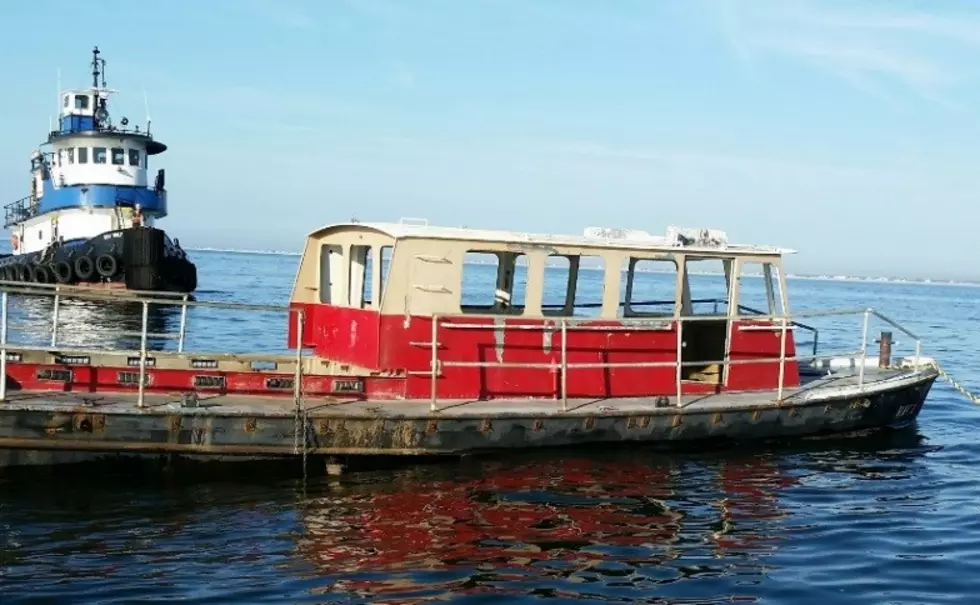 NJ artificial reef project resumes near Manasquan Inlet
NY Harbor Charlie (NJ Dept. of Environmental Protection)
A compromise regarding reef access, brokered by the brokered by the Christie administration between commercial and recreational fishing interests, allowed restoration of federal funding, according to DEP
Commercial fishing concerns retain access to reefs in state waters off Manasquan and Sandy Hook. Recreational anglers retain access to all reefs. DEP plans to turn 10 vessels into underwater marine life havens by late auturmn.
The 65-foot NY Harbor Charlie disappeared below the waves at Axel Carlson Reef.
"Our artificial reefs are an important part of the economy of the Jersey Shore because they are so popular with anglers as well as sport divers," DEP Commissioner Bob Martin said in prepared remarks.
New Jersey's commercial fishing industry retail sales place it seventh in the U.S., according to DEP. The reefs also contribute to the state's economy through tourism dollars, attract anglers and divers, and support nearly 13,000 jobs and $327,000,000 in salaries and wages, according to the Department.
Recreational salt water fishing accounts for some $640,000,000 in annual retail sales, nearly 10,000 jobs and $242,000,000 in tax revenues, DEP estimates.
DEP says that the sunken ships, barges, rocks, concrete and steel become havens for algae, barnacles, mussels, sea stars, sea fans and blue crabs.
Small fish drawn to them attract larger species such as black sea bass, tautog, summer flounder, scup, and lobsters.
The U.S. Fish and Wildlife Service is furnishing $119,250, and DEP sets aside $39,750 in a combination of state funds and a donation by a firm that creates the structures.
The project includes archaeological surveys for new reefs near Manasquan Inlet and in Delaware Bay.
The New Jersey Division of Fish and Wildlife holds permits for 2 sites in state waters, which end three miles from shore, and another 13 beyond that point in federal waters.
"The artificial reef program has a long and proven track record of enhancing ecological diversity and productivity," said Brandon Muffley, Administrator of the Division of Fish and Wildlife's Marine Fisheries Administration. "Our studies have shown that colonization begins in as little as a couple weeks."
State officials acknowledged participation of the Manasquan River Marlin and Tuna Club and the Ann E. Clark Foundation-Sportfishing Club as partners in today's deployment.