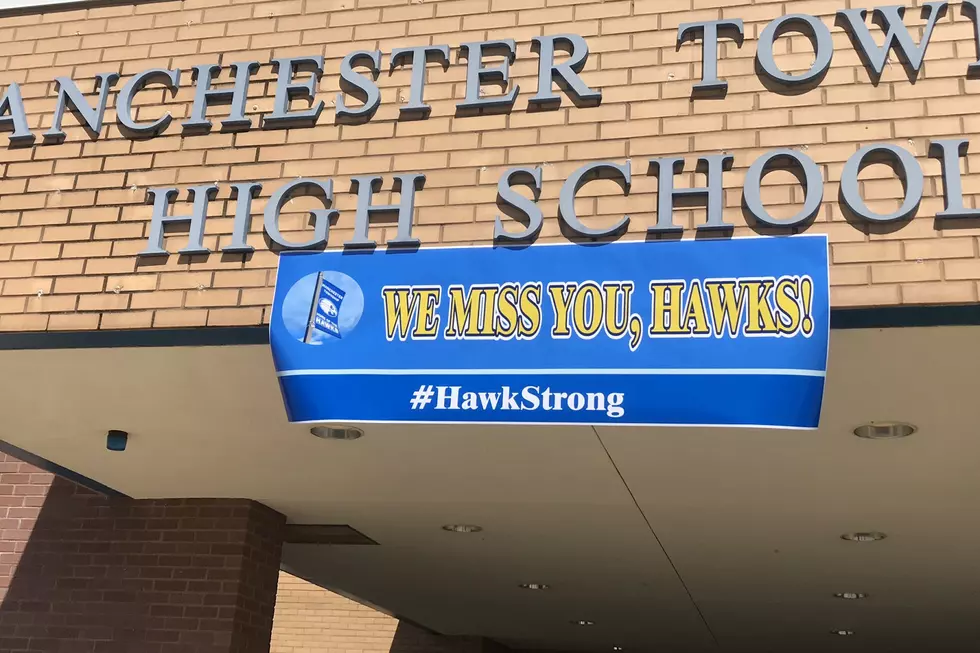 Administrators, educators urge Murphy to keep schools closed
A sign at Manchester Township High School (Dennis Adams via Twitter @MTHS_Pride)
A coalition of education organizations wants Gov. Phil Murphy to keep public and private schools closed for the rest of the academic year.
Murphy closed schools on March 17 with an executive order and this month extended the closure to at least May 15. Most schools have transitioned to distance learning with students completing assignments while at home and partaking in online classes in order to meet the 180-day requirement to complete a school year.
During an interview Monday on CNBC's "Squawk Box," the governor left the door open for a decision to allow students to return to their classrooms.
"Yes, there is a chance we could get back to school," Murphy said, adding that it would be part of a "new norm" that would include social distancing protocols and possibly requiring face coverings.
In a letter to Murphy, the New Jersey Leadership for Educational Excellence, which is made up of six organizations representing school administrators, teachers, parents and school boards, said that he is sending "mixed messages to students, parents and educators and is at odds with the sound reasoning behind 'the Road Back' blueprint." The coalition argues that schools will not be in a position to reopen.
NJ.com posted a copy of the letter on their website.
"Reopening schools presents serious challenges that are far more complex than even those involved in closing schools and moving to online instruction," including catching up students who have fallen behind in their studies and establishing social distancing protocol for buses, extra curricular activities and physical education.
"Above all else, parents, students and school staff must be assured that health will not be compromised when schools reopen. The current data do not indicate that we can provide such assurance if schools reopen in the spring," the letter says.
Toms River schools Superintendent David Healy told Townsquare Media that his district has been preparing for a possible return with new policies and restrictions that would have to be implemented. But he's not confident how successful those plans would be.
"How do you social distance 30 children in a class? How do you social distance 50 children on a bus? Do you have to run three or four bus routes rather than one? Do you have to run A.M. sessions and P.M. sessions with nine or 10 children in a class that are 10 feet apart? What do you do about cafeteria where you have 500 children in a room eating lunch? How do you social distance those kids?" Healy said.
The superintendent said the district is not in a position to spend extra money when the district is "running on fumes already."
He has concerns not only about students but his district's 2,700 employees.
"Many of them may have underlying health issues that we don't know about. Many of them may be in a position where they have an elderly parent living in their household," Healy said. "We're going to have issues that some of our staff are going to be very reluctant to return back to an environment they may not be comfortable with."
Healy said that he has seen on social media that many parents may not send their children back to school.
He would rather see schools stay closed to allow for a transition process to consider the multitude of issues that need to be addressed.
"A big part of transitioning is to make sure our 15,000 students would be entering September prepared for that school year," Healy said.
The organizations that signed the letter are the New Jersey School Boards Association, the N.J. Education Association, the N.J. Association of School Administrators, the N.J. Principals and Supervisors Association, the N.J. Association of School Business Officials and the N.J. PTA.
Enter your number to get our free mobile app
How can I stay safe while grocery shopping? And answers to 24 other coronavirus questions