Manchester's Finest Meet Wanaque's Toughest
You could call Aaron Risher among the bravest of the Men and Women in Blue, and you'd have good reason. He didn't led a crippling ailment block his dream of becoming a police officer.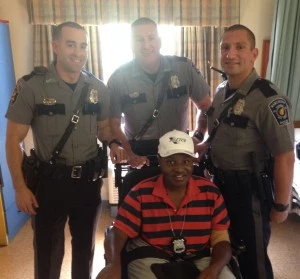 The 19-year-old from Wanaque's aspirations were dashed by muscular dystrophy. Nonetheless, he persevered, and with guidance from Wanaque Police Captain Kenneth Fackina, became an honorary officer on the force.
Fackina contacted law enforcement agencies all over New Jersey, detailing Risher's drive and diligence, and inviting officers to meet him. This past week, a contingent of Manchester Township's finest did just that.
Patrolmen Kyle Rickvalsky, Marc Micciulla and Scott Thompson trekked to the Northern Jersey community, bearing gear including headwear, patches and a challenge coin.
"We showed him what the law enforcement family is all about," said Patrolman Rickvalsky. "It was good to see him smiling."
"It was a great opportunity for our Officers to bring a little bit of happiness to Aaron," said Capt. Lisa Parker. "The Officers came back from visiting Aaron utterly amazed by his determination and optimism."