Local Group Loses Obama Eligibility Appeal [Followup]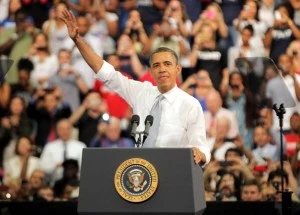 As we reported earlier this week, an Ocean County based group has called into question President Obama's eligibility to appear on the ballot in New Jersey and had taken their case to Trenton.
The Bayshore Tea Party had argued that the President shouldn't be on the Garden State's June 5th primary ballot due to the fact that they feel that he "is not a natural born United States Citizen".
In a ruling yesterday, a number of officials including an administrative law judge, the NJ Division of Elections, and Lt. Governor Kim Guadagno upheld Obama's placement on the upcoming ballot.
For their part, the attorney representing the Ocean County based Tea Party group has said that they would take their case to the U.S. Supreme Court if needed.