Is The NJ DEP Doing Enough To Investigate Lead-Contaminated Soil? [AUDIO]
As the federal Environmental Protection Agency launches an effort this month to remove lead-contaminated soil around a dozen homes in Edison – that are built on top of a former factory site – community groups are calling for the agency to expand lead testing at sites around the Garden State.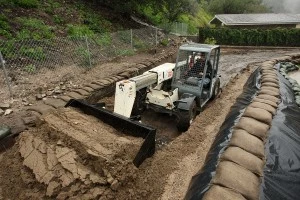 DEP spokesman Larry Hajna says the Agency has been conducting an ongoing investigation around some former factory sites, where lead contamination may have occurred 60, 70 or 80 years ago, based on research that was done a decade ago.
But widespread testing in other areas is problematic.
He says trying to figure out what sites might pose a problem is extremely difficult.
"These operations- these smelters operated 50 years ago or more- we don't know exactly how they dispersed their smoke, you know, the elevation of the smokestacks, what the wind direction was, whether or not. If there was any lead in the smoke itself that fell 50 feet from the plant, 5 miles, 50 miles: 10 and in what areas – there's really no science to help us pinpoint where to locate those types of searches."
Hajna points out, "Lead is a reality in urban soil. Over the years it's come from leaded gasoline in cars, it's come from historic fill, which is dirt which has been placed to raise the level of low areas, it's also been used in leaded paints, so elevated levels of lead are going to be found in the soil in urban areas…It's something that the Department of Health addresses through health advisories and lead screening of young children – there are programs in place to address the threat of lead."
He adds, at this point, there are two sites that have been identified – one in Edison, the other in Newark – that pose a threat of elevated levels of lead in the soil.
"They've been referred to the EPA…Other sites we found were actually within our soil standards for lead, or had been previously capped, and were protected in the environment."
Hajna stresses, "In New Jersey we've been overhauling our site mediation program. We're really working hard to expedite cleanups, make them happen efficiently, and quickly…to kind of divert from that pattern or that path right now, would not be productive …It would really be like throwing a dart and seeing where it landed…We remain focused on cleaning up properties as they come into our system and we try to move them out as quickly as possible – and we're confident in that system working into the future."
Audio clip: Adobe Flash Player (version 9 or above) is required to play this audio clip. Download the latest version here. You also need to have JavaScript enabled in your browser.
Source:
Is The NJ DEP Doing Enough To Investigate Lead-Contaminated Soil? [AUDIO]