Habitat for Humanity's "Women Build Week" Wraps Up
Ladies have been picking up the hammers and paint brushes for Habitat for Humanity's, "Women Build Week."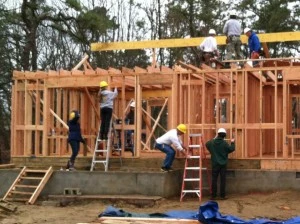 Lizzie Berardi, Public Relations Coordinator with Northern Ocean Habitat for Humanity, says the event is a way of empowering women and making them feel equal to men who normally do construction jobs.
Female volunteers from Merrill Lynch and Surf Taco helped paint a Sandy-damaged home in the Silverton section of Toms River and a new build in the Manatou Park section of South Toms River.
The event culminates today with female students from Monsignor Donovan High School and their mothers volunteering. "A big group of them are going to be coming. They're also going to be working on the house in Silverton and they're going to be finishing up the paint. They're going to be sheet rocking and stuff like that," Berardi said.
The women attended a clinic with Lowe's Home Improvement, which is sponsoring the event.
"It really empowers you. Sometimes you're stuck in the office, not that men aren't either, but most times on construction sites you really do see a lot of men out there and it's nice to see a bunch of women doing really hard work," Berardi said, adding "Not that they don't normally, but it's good to see women on construction sites. It makes them feel equal."