Fit, Trim & Spry – Mary Leonardi Turns 103 In High Style
What's the key to longevity? For Mary Leonardi, who just turned 103 years young, it's simply "staying out of trouble," she wryly confided. But a healthy lifestyle is certainly helping.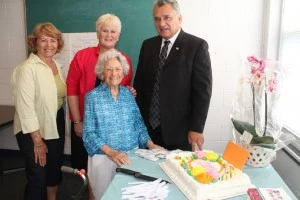 The vivacious Long Beach Township resident marked her birthday July 27th by leading an exercise class at the Saint Francis Community Center in the Brant Beach section, her home since moving from her native Philadelphia.
Celebrations for Mary included her daughter Rosemary Hirsekorn, the Saint Francis staff, Ocean County Freeholder Director and Senior Services Director Joe Vicari, and Assemblywoman DiAnne C. Gove (R-9)