Bye-Bye Bi-Partisanship In 2013 [AUDIO]
You know that spirit of bi-partisanship that Governor Chris Christie is always talking about? It looks like maybe we can forget about that this year. All 120 seats in the State legislature and the Governor's office are up for grabs in November and it's in election years like this that politics really comes out to play.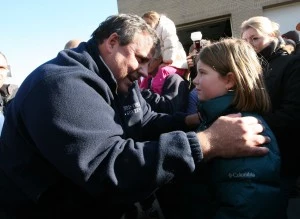 "It's clear that for the next several months we're in for a heavy dose of electoral year politics," says Brigid Harrison, professor of political science and law at Montclair State University. "When you have divided government where the executive is of one party and the legislature is of another it tends to get really nasty and what you see is a lot of opposition politics."
Governor Chris Christie is a Republican. The State Senate and the General Assembly both have Democrat majorities. These political realities could set the stage for real gridlock in the Garden State.
Harrison says, "The legislature's going to be trying their darnedest to try and stake out positions that are different from the Governor. The Governor is going to be doing his best to vilify the legislature. Most voters will recognize this for the sort of low-brow partisan politics that it is. That doesn't make it any more pleasant however."
The legislature, more than the Governor needs to guard against being portrayed as obstructionists according to Harrison. She says that's because Christie is very effective in getting his message across to voters and getting his point of view out there and widely accepted.
"Unlike the Governor, Democratic legislators are faced with a multitude of voices," explains Harrison. "They're not speaking with one cohesive voice. There is no real point-person who you can say, 'This is the leader of the Party,' and without that, it means they are less able to convey their message and voters might be more likely to buy into the Chris Christie characterization of the Democrats as being obstructionists."
Harrison thinks State Senator Barbara Buono could emerge as the one voice for the Democrats because she is the Party's presumptive candidate for Governor in 2013. She says, "That would make sense. That would be logical and I think it might be beneficial for the Democrats to rely on Senator Buono to be that voice, but it seems that Democratic egos get in the way of that."
Audio clip: Adobe Flash Player (version 9 or above) is required to play this audio clip. Download the latest version here. You also need to have JavaScript enabled in your browser.
Source:
Bye-Bye Bi-Partisanship In 2013 [AUDIO]