Are You Having Insurance Trouble After Sandy? [AUDIO]
It's been a month since Superstorm Sandy belted the Garden State, and Jersey residents have filed more than one-hundred thousand insurance claims so far.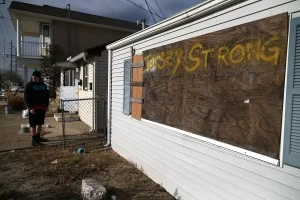 Ken Kobylowski, the Acting Commissioner of the New Jersey Department of Banking and Insurance, says to this point, "We've received 800 calls…and most of those calls are general questions that consumers have, that residents have regarding their insurance coverage…And 112 more formal requests for assistance from consumers…They wouldn't be complaints because at this point they're just inquiries from consumers- which we are looking into."
While some individuals may have specific problems or concerns, the Commissioner says the insurance industry is doing an extraordinarily good job of being responsive to their policyholders.
"One of the things that we're seeing are questions regarding the hurricane deductible versus the wind deductible issue – another that we're seeing are flood claims, as opposed to claims that would be covered under the standard homeowners policy…This is a storm of unprecedented magnitude in the state of New Jersey – and the insurance industry has really brought unprecedented resources to address the claims coming out of this storm."
He adds if Jersey residents have any questions or complaints, "I would ask that they contact us on the website, which is DOBI, or they can call us here in Trenton, which is 1800-446-7467…If the policyholders have questions or concerns, most certainly contact our Department."
Audio clip: Adobe Flash Player (version 9 or above) is required to play this audio clip. Download the latest version here. You also need to have JavaScript enabled in your browser.
Source:
Are You Having Insurance Trouble After Sandy? [AUDIO]