4th District: Brian Froelich(D) [VIDEO]
Know your Representatives. The political party that dominates the House for the next two years may well determine America's economic, environmental and tactical future as a global power. Townsquare Media News sat down with incumbents and major-party challengers in six of New Jersey's Congressional districts. Where do your candidates stand? Find out here.
Townsquare Media's Rosetta Key talks to 4th district challenger Brian Froelich at his Howell campaign office. Redisticting added several traditionally Republican-leaning towns including Fair Haven, Rumson and Little Silver,Holmdel, Manalapan, Middletown, Shrewsbury, & Tinton Falls. Burlington County is no longer in the 4th congressional district nor is a section of Trenton.
---
AUDIO OF BRIAN FROELICH INTERVIEW
Segment 1
Audio clip: Adobe Flash Player (version 9 or above) is required to play this audio clip. Download the latest version here. You also need to have JavaScript enabled in your browser.
Segment 2
Audio clip: Adobe Flash Player (version 9 or above) is required to play this audio clip. Download the latest version here. You also need to have JavaScript enabled in your browser.
Segment 3
Audio clip: Adobe Flash Player (version 9 or above) is required to play this audio clip. Download the latest version here. You also need to have JavaScript enabled in your browser.
Segment 4
Audio clip: Adobe Flash Player (version 9 or above) is required to play this audio clip. Download the latest version here. You also need to have JavaScript enabled in your browser.
---
CANDIDATE CONTACT INFORMATION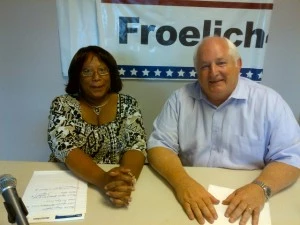 Website: Froelich4Congress.com
Facebook: Facebook.com/BrianFroelic ForCongress
Twitter: n/a
Source:
4th District: Brian Froelich(D) [VIDEO]